Deforestation
Trees to charcoal
Natural resources management in Malawi has failed miserably. Politicians have been blamed for illegal logging and allowing communities to farm in the forests in exchange for political votes.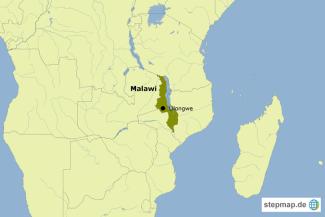 stepmap.de
One sad example is Dzalanyama Forest Reserve where caravans of illegal charcoal and fuelwood dealers move with bags of charcoal on their bicycles. All over the reserve, there are charcoal kilns or ovens – in plain sight of the forestry guards who are supposed to protect the reserve.
Many trees have been cut. But this natural reserve is a catchment area for Lilongwe River which supplies water to almost half of the residents of the capital Lilongwe. At this rate of deforestation, the Lilongwe River will run dry in the next three to five years, causing a serious water crisis. The government has deployed the Malawi Defense Force in the forest reserve in order to keep encroachers away.
The effect, however, is only slight. "We haven't seen the army here," says charcoal seller Thokozani Kumanda. Ebasi Sakisoni, aged 45 and a father of seven children, pushes a bicycle loaded with fuelwood. He is aware that the forest, which used to have lots of wildlife, is now empty because of deforestation. That does not deter him though. He sees selling firewood from the forest as a good business – as long as "you don't meet forestry guards because they confiscate the wood or charcoal".
There are not enough soldiers deployed in the forest to cover the whole of the 989 square kilometres of land. According to Minister of Natural Resources, Energy and Mining, Bright Msaka, army deployment is a "temporary measure".
Annual biomass loss in Dzalanyama Forest Reserve caused by charcoal production for domestic use is around 439,000 tons, according to the Department of Forestry. 80 % of the charcoal consumed in the capital city comes from Dzalanyama. Many forests reserves in the country are on the verge of extinction.
Poverty in Malawi is around 50.7 %, according to the International Fund for Agricultural Development. Electricity is beyond the reach of millions of people, and those who are connected to the national grid are struggling with huge electricity tariffs. An estimated 12 % of 15.3 million Malawians are connected to hydropower.
The collapsed natural resources management systems in the country is contributing to the high rate of deforestation which is currently pegged at 2.6 % per year, according to environmental experts. An economic study done in 2011 by the Government of Malawi, the United Nations Development Programme (UNDP) and United Nations Environment Programme (UNEP) estimates that unsustainable use of natural resources, which include forestry, fisheries and wildlife, is costing this country the equivalent of 5.3 % of the country's growth domestic product (GDP).
Daulos Mauambeta, an environment expert and former director of Wildlife and Environmental Society of Malawi, says the government is "losing the battle".

Raphael Mweninguwe is a freelance journalist based in Malawi.
raphael.mweninguwe@hotmail.com