Child brides
An early end to childhood
In 2017 the Malawi Parliament banned marriages among children under 18, hoping to stem a tide of child marriages. The legislation was passed as an amendment to the Constitution, in an effort to strengthen an existing law setting the minimum marriage age at 18.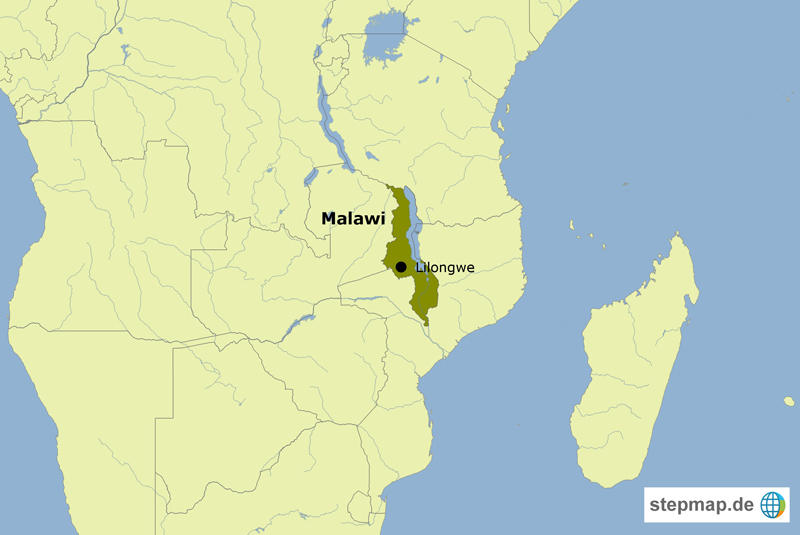 stepmap.de
Three years later, nothing much has changed. Indeed, the incidence of child marriage is on the rise.
According to the UN Children's Fund (Unicef), 46 % of Malawian girls are married before age 18, compared to 42 % in 2017; 9 % of girls are married before age 15. Malawi has the 12th highest rate of child marriage in the world, Unicef says.
Not surprisingly, the data on early marriages are correlated with data on teen pregnancy. Malawi's National Statistics Office says that between 2010 and 2016, the rate of pregnancy among teenage girls increased from 25 % to 29 %.
Also not surprisingly, early marriage and pregnancy are also correlated with girls dropping out of school. More than 50 % of Malawian women who have never been to school became pregnant in their teens, compared to 32 % of those with primary education and 19 % of those with secondary education. Early marriages and pregnancies stunt girls' educational and social development and limit their future opportunities.
Limbani Nsapato, an educator, says that laws alone will not reverse these trends. Broader social factors that contribute to early marriage and teen pregnancy must be addressed. The main cause of early marriages is poverty. "Many families are too poor to pay for their daughters' school fees and other needs; they opt for early marriage thinking that the husbands will support them," he says.
Another factor is cultural practices such as initiation ceremonies encouraging teenage boys to be sexually active. In addition, "parents lack knowledge about how to advise their daughters on sexuality and contraception and how to emphasise the importance of education," he says.
The closure of schools in response to the Coronavirus pandemic made matters worse, by interrupting teens' education. "Due to the closures of schools we saw more early pregnancies and early marriages," Nsapato says, reporting of thousands of girls who have been forced into early marriages or become pregnant. "Some are marrying as young as age 14," he says.
Theresa Kachindamoto, paramount chief in Dedza District agrees that teen pregnancies spiked in the wake of school closures. Kachindamoto, who has informal authority over more than 900,000 people, has taken action to dissolve 2,000 child marriages, earning for herself the nickname "the marriage terminator".
She highlights the importance of education for both girls and boys, and calls on education authorities to keep schools open. "Continued closure of schools is encouraging young girls and boys to engage in sexual relationships that end up in pregnancies and marriages," she says. "This is compromising their education."

Raphael Mweninguwe is a freelance journalist based in Malawi.
raphael.mweninguwe@hotmail.com