Schools
Failing grades
A major controversy erupted in Brazil last year when President Jair Bolsonaro announced major cuts to the national education budget.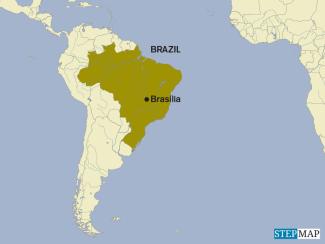 stepmap.de
Much of the protest focused on his proposals to cut university funding by 30% and block new scholarships for master's degree and doctoral candidates. But the controversy over those specific proposals masked a far bigger problem: the dire state of Brazil's primary and secondary schools and the implications of that for the country's future development.
Brazil has been cutting its education spending for years. According to a technical bulletin from the nation's Chamber of Deputies, overall spending on education fell by 56% between 2014 and 2018, from 11.3 billion Brazilian reals (about € 2 billion) to 4.9 billion reals (about € 900 million). Inflation-adjusted spending declined at all levels of education – primary, secondary, tertiary and technical.
The impact of those cuts is felt most in primary and secondary education, where the nation's human capital is first formed and developed. Here, Brazil receives failing grades: Its spending per student is well below the average of the Organisation for Economic Co-operation and Development (OECD), a forum of 36 nations with market economies.
The OECD's "Education at a Glance" report for 2019 finds that problems in Brazil's education system start early, at the pre-school level. Only 23% of eligible Brazilian children under the age of three are enrolled in early childhood education programmes, well below the OECD average of 36%. This low rate sets a pattern in motion that impedes children's educational attainment for years to come.
Teachers also fare poorly in Brazil's education system. Average salaries for Brazilian teachers are lower than in most OECD countries in purchasing power parity terms. Teachers earn at least 13% less on average than do Brazil's other college graduates. The OECD reports that Brazil's high school teachers are the worst paid among the 40 OECD and partner countries it surveyed.
In particular, the maximum average annual salary for teachers in Brazil was equivalent to $ 24,100, compared to $ 45,900 in surrounding countries, according to a report by the Borgen Project, a US campaign focused on global poverty, citing 2018 OECD figures.
Many teachers work at two jobs to make ends meet. "Our profession is very devalued and forgotten by the government," says Márcia da Conceição, 33, a teacher for 11 years. She teaches a total of 44 hours per week at two different schools, including a rural school that lacks basic sanitation and is reachable by a bus that runs only once per hour. She earns a total of about € 470 per month.
For teachers, low pay is just the start of the difficulties. Violence in schools has become commonplace and the problem is not being addressed. Some teachers work without health insurance. Some even buy supplies for their students because the schools do not provide them.
"With funding being reduced, the condition of the schools is terrible," says Denize Alvarenga, who has been a teacher for 31 years. "Today a new entrant makes less than the minimum wage, the equivalent of around € 230 per month. It's a difficult profession with a very low salary, and it has gotten worse over time."

Links
OECD, 2019: Education at a glance.
https://www.oecd.org/education/education-at-a-glance/EAG2019_CN_BRA.pdf
The Borgen Project:
https://borgenproject.org/top-10-facts-about-teachers-in-brazil/

Thuany Rodrigues is a journalist in Brazil.
thuanyrodriigues@gmail.com