Civil liberties
Live up to the rhetoric
The EU is proud that protecting human rights is central to its efforts to make the world a better place, and has repeatedly defined this goal as integral to its foreign policy. That's the theory. The reality often looks different – in Central Asia, for example.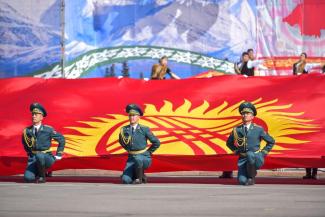 Aliyev/picture-alliance/AA
The EU has sought for decades to improve Central Asia's region's often terrible rights record, but delivery has been patchy and inconsistent. The presence of Russia and China on Central Asia's doorstep and the EU's own competing priorities influence its approach. The EU could use existing mechanisms to be more effective and should make it clear that human rights abuses could lead to serious political consequences.
Eigthy million people live in this region between Europe and Asia, comprising Kazakhstan, Kyrgyzstan, Tajikistan, Turkmenistan and Uzbekistan. These governments have jailed many political prisoners, a record of torture in detention facilities and heavy limits on free speech and the right to protest. Violence against women, including domestic violence, is commonplace. Apart from Kyrgyzstan, the region's only parliamentary democracy, highly authoritarian governments dominate the political landscape – and are the main interlocutors for the EU.
Abuses affect ordinary people. Take three recent examples. Akzam Turgunov is an Uzbek human-rights activist released in 2017 after nine years as a political prisoner. Under a new president, Uzbekistan's government has since 2016 improved some aspects of human rights and released dozens of political detainees, but it's still almost impossible to register an independent human-rights group – as Turgunov has applied several times to do. Freeing many of those unfairly jailed was good, but that doesn't make human-rights work more accepted.
In Tajikistan, Zebo Z (not her real name) was beaten by her husband. Covered in blood, she sought help from the city prosecutor only to have him refuse to help and call her husband. The government has taken steps to address domestic violence but much more is needed, especially making it a criminal offense and ensuring that the abusers are punished.
In Turkmenistan, one of the world's most closed countries, the government is responsible for the enforced disappearances for nearly two decades of dozens of former officials and perceived critics. Relatives suffer the agony of not knowing if their loved ones are dead or alive.
The EU has the capacity and leverage to exert influence on such issues and on reforming the structures that underpin such abuses. The bloc has been engaged in Central Asia since these counties gained independence in the early 1990s. It is the largest donor in region, with support worth € 1 billion between 2014–20 from EU institutions and member states, including for legal reforms, training judges and promoting independent media. The European Parliament has played an important role in promoting human rights in the region and has held the European Commission accountable for not giving sufficient attention to grave rights abuses.
In 2019, the EU adopted a new strategy on the region, with marked improvements on the previous one from 2007, which was weak on human rights. The new one calls on countries to uphold human-rights standards, to allow activists, journalists and trade unionists "to operate freely and safely", and to eradicate torture.
Turning such commitments into results will be difficult, however. The geo-political context is part of the explanation. Russia retains its political and economic influence in the region. China has significantly stepped up its presence, especially via infrastructure projects and massive loans to under-resourced governments. Europe's approach can appear lumbering in comparison to these actors that regularly ignore human-rights norms.
Peter Burian, EU special representative for Central Asia, suggested the EU is aware of this danger when he joked at a recent business conference that "China is coming with an offer nobody can refuse, while the EU is coming with an offer nobody can understand".
Nevertheless, some government officials in the region know that western investment, technology and innovation are important for their future, and that western companies need clear and predictable legal frameworks based on the rule of law to make long-term commitments.
The main limit on the EU's effectiveness is its own lack of political will amid the competing interests that shape its approach to the region. EU officials need to weigh, for instance, security, foreign policy, trade and energy interests. But to live up to its own commitments, the bloc needs to ensure that human-rights aspects are genuinely a central part of the conversation.
There are structures that could be used more effectively. The EU has an annual human-rights dialogue with each Central Asian country. It would be better if that dialogue was not simply an exchange, but a structured process with clear benchmarks for key human-rights issues. Whether such benchmarks are reached should influence progress in other parts of the EU's relations with these countries.

Leveraging trade preferences
Central Asian governments have been keen to sign agreements with the EU to codify and strengthen economic ties. Agreements for trade privileges, such as the special incentive arrangement GSP+ (GSP stands for "generalise scheme of preferences") granted in 2016 to Kyrgyzstan, come with commitments to abide by international human-rights and labour standards. The EU could be more rigorous in ensuring that Kyrgyzstan is upholding these standards when reviewing the GSP+ as well as before it grants this status to other countries in the region.
Similarly, human rights are part of broader partnership and cooperation agreements between the EU and individual Central Asian states. The EU could better use its leverage to insist during negotiations on these agreements on human-rights improvements, and then prioritise human-rights aspects during the regular reviews of the agreements. The EU should have pressed Kazakhstan to deliver more, including to release the land-rights activist Maks Bokaev, before signing its cooperation agreement. It should spare no effort to get rights activist, Azimjon Askarov, out of jail before concluding a similar agreement with Kyrgyzstan.
Finally, the EU should be less wary of using other instruments to curb severe rights abuses, such as joint action in the UN or Organization for Security and Co-operation in Europe. These could be used to apply more pressure on Turkmenistan to end enforced disappearances. The EU could also use targeted asset freezes or travel bans on individuals in Tajikistan responsible for unjustly jailing journalists, opposition activists and lawyers under that government's four-year crackdown.
The appointment of a new European Commission and the election of a new European Parliament offer opportunities for more focused and assertive steps by the EU in Central Asia. To protect the rights of the region's population it is vital for the EU to fulfil its important role on human rights in the region as effectively as possible.

Hugh Williamson is the director for Europe & Central Asia of Human Rights Watch, the international non-governmental organisation.
Twitter: @hughawilliamson