Feminist development theory
Feminist development policy for inclusive societies
Germany's focus on a feminist development policy provides a new impulse for fairer and more inclusive societies. If the development community looks at rights, resources and representation from a social contract angle, it can design projects for more gender equity in a way that leverages its full transformative potential.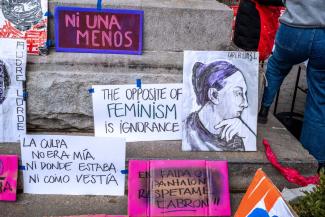 picture-alliance/ZUMAPRESS.com/Milo Hess
On 1 March 2023, the German Federal Ministry for Economic Cooperation and Development (BMZ) and the German Foreign Office jointly announced their feminist development policy and feminist foreign policy strategies. They aim for a gender-sensitive and transformative policy.
However, it is crucial to go beyond mere rhetoric and fully realise the transformative potential of the feminist strategy, ensuring it transcends being a mere provocative accentuation of the "leave no one behind" paradigm. Development agencies have a unique opportunity to utilise feminist development policy as a foundation for comprehensive and profound change, addressing structural inequalities and dismantling oppressive power dynamics. After all, the BMZ has set the ambitious target of allocating 93 % of all of its project funds to measures to promote gender equality by 2025.
Germany's feminist development policy aims for two guiding principles:
Intersectionality: it seeks to improve the situation for "women and marginalised groups in all their diversity". The strategy thus acknowledges that a person can be disadvantaged in several ways and due to a combination of their individual characteristics, such as ethnic or religious identity, sexual orientation, socioeconomic background or origin from rural, disadvantaged regions. For example, female refugees may be stigmatised for their gender and their migratory experience.
Postcolonialism: the strategy's postcolonial claim intends to critically reflect entrenched power structures and contribute to dismantling unequal treatment based on patriarchal or racist power gaps.
Key areas of the strategy are "three Rs" and respective measures:
Rights of women and other marginalised groups must be protected by replacing discriminatory laws with gender-responsive laws and supporting their implementation. They include sexual and reproductive rights, prevention of violence, human rights, land rights or digital rights as well as rights to health services, education and economic opportunities.
Resources need to be equally accessible to and controlled by all genders. They comprise access to education, labour markets, financial systems, land, digital technologies, social protection, health, sanitation and funding as well as protection from climate risks and food insecurity.
Representation means the equal and meaningful participation of women and other marginalised groups in important social, political and economic decisionmaking processes at all levels. They range from planning and budgeting decisions in economic and tax systems to equal participation in peace processes and a stronger role for women in the development and use of digital technologies.
A tall order
The strategy is timely and much needed – but a tall order. Underlying power imbalances are difficult to identify let alone to reduce, and the "three Rs" offer a list of good things that do not necessarily go together. Priority setting must be key. At the same time, there is no prioritisation that can consider all the diverse interests and local conditions.
The social contract framework offers a possible starting point to deal with this. It helps to understand how different groups in a society have rights and responsibilities, and how power dynamics and compromises play a role. It shows that the government provides goods and services to its citizens in return for their acceptance of its authority. Social contracts contribute to establishing stable relationships between the government and society by avoiding the need to constantly renegotiate the terms of their interaction.
Whether social contracts make the relationship between state and society more predictable, resilient and equitable, depends on who is entitled to which goods and services within state and society. According to researchers from the German Institute of Development and Sustainability (IDOS), these goods and services can be categorised as the "three Ps". These "three Ps" are similar to the "three Rs" of the feminist policy and can help to prioritise between them:
Protection differentiates between collective security (e.g., against external threats), human security (e.g., against physical threats or criminal attacks) and legal security (e.g., enforcing human and civil rights, rule of law).
Provision means basic public services, especially access to resources, infrastructure, social services and economic opportunities.
Participation refers to the state's willingness to give its citizens a voice in political decisionmaking processes on different levels.
Governments fail their duties
Ideally, governments fulfil their responsibilities and provide all three Ps to every citizen. However, governments often fail to meet one or more of these duties. This may be due to budgetary constraints, for example if the cost of universal health care is too high. Political motivations are another reason. Authoritarian leaders may prioritise security and service delivery but expect citizens to give up their rights to participate in decision-making and legal protection. Sometimes rights are denied to all citizens, sometimes a policy of "divide and rule" gives some groups more rights than others.
Women are particularly often disadvantaged. This was most recently demonstrated by the Covid-19 pandemic. They had to do the additional care work as schools and kindergartens were temporarily closed (that is, the state had to reduce provision). Moreover, women are often in less stable employment with fewer workers' rights and are more at risk of losing their jobs (that means they lack protection).
Helping stakeholders to implement truly gender sensitive policies
Considering state-society relations and changing social contracts helps stakeholders in the development context to identify which issues are most disputed in a given context and which rights, resources and representative positions are currently inaccessible to certain groups. It also helps policymakers to understand which development interventions are transformative and cannot simply be reversed later.
The development community can expand its influence in promoting gender-­sensitive policies by paying attention to social contracts. For example, this approach helps to realise that simply increasing the number of female representatives in a country's decisionmaking bodies may not necessarily lead to transformative change. In some cases, it may even reinforce existing power imbalances if the chosen representatives are not only female but also part of a longstanding privileged elite.
Alliances not only with feminist organisations but also within society at large are necessary for more inclusive development. It is crucial to also include men, ethnic leaders or religious elites to understand their interests and reservations. Development actors should take this into account when selecting their cooperation partners and beneficiaries. Feminist policy calls for role models with whom women and other marginalised groups can truly identify.
In the face of crises as well as future challenges such as climate adaptation or digitalisation, feminist policies are more necessary than ever for truly transformative and inclusive development. While the formulation of feminist policies was a step in the right direction, it is now crucial to find innovative and effective approaches to implement them in an equitable and sustainable way.
Further reading
BMZ, 2023: Feminist development policy. For just and strong societies worldwide (also available in German).
https://www.bmz.de/resource/blob/153806/bmz-strategy-feminist-development-policy.pdf
Loewe, M., Trautner, B., and Zintl, T., 2019: The social contract: an analytical tool for countries in the Middle East and North Africa (MENA) and beyond. Bonn, German Development Institute/Deutsches Institut für Entwicklungspolitik (DIE) (also available in German).
https://doi.org/10.23661/bp17.2019
Friesen, I., and Wisskirchen, A., 2022: Ten recommendations for Germany's feminist development policy. Bonn, German Institute of Development and Sustainability (IDOS).
https://www.idos-research.de/uploads/media/DP_17.2022.pdf
Tina Zintl
is a Senior Researcher at the German Institute of Development and Sustainability (IDOS).
tina.zintl@idos-research.de