German development policy
What really helps women worldwide – sanitary pads, visas and loans
Germany's Federal Minister for Economic Cooperation and Development explains how feminist development policy contributes to making societies more equitable, resilient and stable.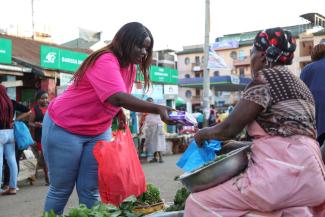 picture-alliance/ASSOCIATED PRESS/Brian Inganga
I recently attended this year's re:publica – Germany's biggest digital conference – where the focus was on women and finance. Female experts from the Global South highlighted the fact that there is a data bias that often leaves women invisible, and that this is preventing them from accessing financial services tailored to their needs. They explained how this is fuelling structural poverty among women and pointed out other power structures that hinder women from becoming researchers, business founders or experts in their field.
Kenyan data expert Linda Bonyo talked about some of the challenges facing women in her home country that often go unrecognised. 40 % of all 18- to 26-year-old women in Kenya are single mothers. Most of them have not studied, and they often lack the time and money for training that would help them get good jobs and achieve financial independence. Single women also experience other forms of discrimination: they cannot rent a home for themselves, rarely have assets in their own name, have no access to loans and are less likely to be granted a travel visa. Society thus deprives them of many of the tools they need to start a business.
This illustrates just how complex and intertwined the various forms of discrimination against women are. Which is why we need to fundamentally change the power structures in place. That is the goal of my feminist development policy.
Feminist development policy: what it is and what it aims to do
If the world's systems are designed and run by men, we will always be lacking women's perspectives. That means we are missing out on 50 % of the potential ideas and input on how to make our societies fairer, safer and more prosperous. If we want everyone to be able to participate equally in our societies, then women and other marginalised groups need equal rights, equal representation and equal access to resources.
Existing inequalities are no coincidence. Discriminatory social norms, laws and gender stereotypes in the Global South can often be traced back to colonialism. This means that Germany and other countries in the Global North now bear particular responsibility for promoting gender equality worldwide and minimising the repercussions of that colonial past.
Women in the Global South are demanding three main things in order to improve their economic opportunities: quality education, legally enshrined equal rights and access to the right financial instruments.
Education and bodily autonomy
Decent jobs are only available to educated women. So how can feminist development cooperation support education for girls in our partner countries? By providing school meals, sex education and sanitary pads. Poor families are more likely to send their daughters to school if they will be fed. Sex education enables girls and boys to prevent early pregnancies, which frequently lead to girls dropping out of school. And sanitary products enable girls to continue attending school during their period.
At the Ikwera Negri School in Uganda, for example, Mary Alori explains to the students what menstruation is and how girls can use sanitary pads so that they can still play football during their period. As part of the Sanitation for Millions programme, the Ugandan government has provided the school with period products as well as washrooms. This ensures that girls from poorer families have access to the hygiene items they need and can continue to attend lessons.
These efforts are essential in order to prevent girls from falling behind their male peers during this formative phase of their education. But women often face further hurdles when entering the world of work and participating in the economy.
Education therefore also needs to address gender roles and stereotypes in order to dismantle discriminatory social norms and the structural causes of gender inequality. Gender-transformative education in schools can help to reduce sexual and gender-based violence, child marriage and teenage pregnancies. A gender-transformative approach means tackling structural discrimination and its causes.
Combating discriminatory norms and rules
In addition to discriminatory laws – such as those that grant land rights only to men – many countries in the Global South have additional discriminatory norms that obstruct women's economic progression. In Pakistan, for example, the phenomenon of "doctor brides" is widespread: 70 % of qualified medical professionals in Pakistan are women, but only half of them actually practise medicine. The other half either studied medicine solely as a way of boosting their status on the marriage market or stop practising after they get married. As a result, the country is short of thousands of doctors.
Iffat Zafar Aga and Sara Saeed Khurram have set out to address this shortfall with the "Sehat Kahani" app. The app enables female doctors to offer digital consultations from home, primarily for patients in rural areas. The two founders have set up dozens of e-health clinics in low-income communities. Patients are charged only 80 Pakistani rupees ($ 0.43) to see a nurse, who can then get in touch with a doctor via the online platform.
With support from the Women Entrepreneurs Finance Initiative (We-Fi) – which is co-funded by Germany – the two women were able to access financial products and services, grow their network and find mentors. This has helped them to overcome discriminatory norms.
Pragmatic, trustworthy and confidential: financial products from women, for women
In many countries in the Global South, women have no access to loans, or have to accept worse terms than men. This is because loans are not granted based on cash flow but are usually secured against assets such as land. Unmarried women rarely own land, and if they marry, the land is officially owned by their husbands. So, women often lack access to the money they need to start or grow their business.
Mary Ellen Iskenderian, CEO of Women's World Banking, points out that women face other significant financial barriers, too. Women are less likely to feel confident navigating financial or technical services. In addition, financial-service providers still do not see women as attractive customers. For financial products to become more attractive to women worldwide, they need to be pragmatic, trustworthy and confidential. In their role as daughters, mothers, wives and caregivers, women's time is extremely limited. Financial products need to be readily available, fast and straightforward – otherwise women simply won't use them. Women also place great importance on data privacy. Confidentiality, as well as trustworthiness, plays a crucial role. No one but the woman herself should know how much she is saving and for what.
To drive this process forward, KfW Development Bank and Germany's Federal Ministry for Economic Cooperation and Development (BMZ) have joined forces to help fund Women's World Banking. Together, we have invested equity in a specific fund that is used to offer loans to companies that promote gender equality. The fund also provides a first-loss guarantee in order to motivate private investors that otherwise see lending to women in the Global South as high risk. Women's World Banking then works with the companies to create a binding action plan that empowers women. These investments enable us to ensure that women are represented from the working level through to the board level of the company.
Sanitary pads, visas and loans are only the beginning
To make sure that girls can go to school and do not drop out and that women have access to training and can achieve financial independence, we need to fully understand their lived realities. And no one understands these better than the women themselves. Which is why it is so important that women are able to develop their own solutions and spread the word in their communities – like Linda Bonyo is doing in Kenya, Mary Alori in Uganda and Iffat Zafar Aga in Pakistan.
But sanitary pads, visas and loans alone are not enough. We need a global political consensus that gender equality is a human right. And that societies are fairer, more resilient and more stable when all people are treated as equals. My feminist development policy is supporting this process. It is not a policy by women for women – it is a policy by everyone for everyone.
Svenja Schulze is Germany's federal minister for economic cooperation and development.
www.bmz.de