Cultural heritage
Revealing cultural diversity
Brazil, Latin America's largest country, has a very diverse culture. However, many local cultures of remote areas do not get much attention. Revelando os Brasis is an initiative that gives local people opportunities to tell others about their life.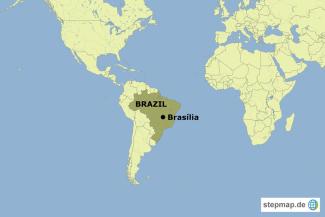 stepmap.de
"Revelando os Brasis" is Portuguese and means "revealing the Brazils". The idea was born 13 years ago at the Institute Marlin Azul, a civil-society organisation. It launched the project in partnership with the Brazilian Ministry of Culture in order to promote audio-visual literacy in Brazil's rural areas.
The project allows people to tell their stories on video instead of writing essays or books. In this way, a mosaic of Brazil's cultural diversity is created. Revelando os Brasis helps amateurs from remote areas to produce 15-minute documentaries concerning their hometowns.
Every year, the project starts with a national bid asking amateurs to submit proposals. The target group are people from small towns with less than 20,000 inhabitants. On this basis, 20 to 40 participants are selected and invited to Rio de Janeiro for a two-weeks workshop which teaches them how to make a short film.
The selected persons differ in age and profession. Schoolteachers, journalists, farmers, students, bricklayers, sociologists and even a retired railway worker have been chosen. Their diversity is reflected in the videos, which deal with regional dialects, habits, dance and music styles and other things. They focus on "unnoticed" culture, which barely figures in mainstream media.
Many participants come to Rio for the first time, reports Beatriz Lindenberg, the founder of Instituto Marlin Azul. "Imagine people from rural areas seeing an escalator for the first time," she says. "We create an environment of sharing, solidarity and mutual assistance."
When the participants return to their cities after the workshop, they have written a screenplay, drafted a production plan and received the money they need to make the documentary. Within three months, they must produce a short film.
"This project has changed my life completely," says Arthur Leite, who took part in 2010.  "I was born in a village of Ceará state, and since I was a child, I wanted to do cinema, but it was impossible, just inaccessible." His documentary was about an architectural complex built of rough stone by a family in his home village.
The films are not only shown in the big cities' cultural centres. Since many of the participants' home localities do not have a cinema, the Instituto Marlin Azul organises free screenings. It uses trucks equipped with projectors, projection screens and loudspeakers, so villagers can see the documentaries that show Brazil's amazing cultural diversity.

Danielle Rotholi is a documentarist and lives in Bonn, Germany.
danirotholi@gmail.com
Aida Azarnoush is a journalist and lives in Bonn, Germany.
aidaazarnoush@gmail.com

Link
"Revelando os Brasis":
http://www.revelandoosbrasis.com.br/