Pandemic impacts
Covid-19 means more debt and more forced labour
The coronavirus crisis has had a devastating impact on the working and living conditions of garment workers in developing countries. They have been largely abandoned by major fashion corporations and governments.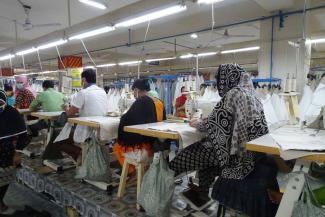 SB
Many economic sectors have suffered during the Covid-19 pandemic, and the garment industry is no exception. A recent report shows the impacts the pandemic has had on the working and living conditions of garment workers in four case-study countries – Ethiopia, Honduras, India and Myanmar. The findings were published by the University of Sheffield in cooperation with the University of British Columbia, the Modern Slavery and Human Rights Policy and Evidence Centre of British scholars and the independent Washington-based Worker Rights Consortium.
According to the authors, multinational fashion corporations faced the prospect of severe losses during the pandemic. Their response early on was to cancel orders at textile factories with no regard for their social commitments. They also held up payments to suppliers for garments already made. The report states that this profit-prioritising strategy triggered a domino effect along the supply chain, forcing companies at the bottom to shut down production. Workers were thus condemned to one of two fates:
either suspension and termination of employment or
lower pay and worse working conditions.
Asked about job security, 72 % of the surveyed workers said they were still employed at the same factory during the pandemic, while 17 % had found another job, and 11 % were currently unemployed. Of the 13 % whose employment contracts were terminated, more than two-thirds did not get any severance pay. Those most likely to be laid off were members of ethnic minorities or lower castes.
Compared with pre-pandemic levels, wages in the garment industry were found to have fallen by an average of 11 %. According to the report, the most important reason was that those who kept their jobs worked less hours. Opportunities to earn money with overtime work were reduced, moreover.
Unsurprisingly, the level of debt among workers has increased by an average of 16 % in the four case-study countries. In Ethiopia, it almost doubled. The researchers state that the number of people without any savings rose by 25 %. Their conclusion is that people were forced to increase their debt to meet basic needs.
At the same time, indebted people reported difficulties servicing loans. Most said they tried to work more hours to reduce their debt burden, while others went without meals. In Ethiopia in particular, indebted workers took on new loans to pay off old ones, getting caught in a vicious circle. The researchers heard reports of violence and threats from lenders. They saw evidence of growing debt heightening vulnerability to forced labour.
One sign of such vulnerability is that 35 % of respondents reported experiencing verbal abuse at work. While 24 % received threats, 22 % had to accept unfair deductions from their wages. Some workers in the sample said this was the first time they were treated in this way, others claimed it had happened before but became worse during the pandemic. The researchers found out that indicators of forced labour were most prevalent in Ethiopia. More than a third of respondents, moreover, reported working in poor hygiene conditions. Given the lack of alternative employment opportunities, garment workers had virtually no way to escape this precarious situation.
During the pandemic, some fashion-brand companies tried to repair some of the social damage, but the study argues that doing so is not easy. The authors point out nonetheless, that for several reasons, big corporations are interested in living up to social commitments. Managers' personal conscience matters, but there is also corporate self-interest in reliable supply chains and compliance with regulations. Managers find long-term relationships with suppliers helpful, the report adds.
Government action has had a significant impact on pay during lockdowns. In some countries, garment companies received coronavirus grant money and continued to pay workers the normal wages. Unfortunately, this was not the case everywhere. In the meantime, government funding is at low ebb. Support programmes have been time-limited and often difficult to access (see my article in the Magazine section of D+C/E+Z e-paper 2021/10).

Link
The unequal impacts of Covid-19 on global garment supply chains:
http://speri.dept.shef.ac.uk/2021/06/21/new-report-risk-of-forced-labour-in-clothing-industry-rises-due-to-pandemic-and-industry-response/

Aenne Frankenberger is a student of English and Business Administration at the University of Giessen. She was recently an intern at D+C/E+Z.
euz.editor@dandc.eu