Women
Gender violence aggravated with Ebola
In Sierra Leone's civil war from 1991 and 2002, many juveniles became victims or perpetrators of serious atrocities. Violence against women and girls was systemic. Long after the war, the long-term effects are still evident.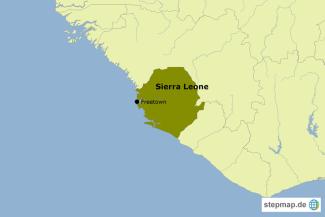 stepmap.de
Women and girls face many abuses, mainly domestic and sexual abuses. The problem is serious, although there have been significant improvements, thanks to continued advocacy by human-rights institutions and civil society activism in the country.
As recommended by the Truth and Reconciliation Commission (TRC), the government of Sierra Leone enacted the so-called "Gender Acts" to prevent sexual abuse and punish sexual offenders. This was a significant step forward in efforts to ensure gender equality. The Gender Acts provide women and girls with more legal protection. However, neither the end of the war, nor the new gender laws have stopped gender-related abuse. Sexual and gender-based violence (SGBV) continues to be a major problem faced by women and girls in Sierra Leone, especially in the western area.
The civil-society organisation Centre for Accountability and Rule of Law (CARL) has been promoting and advocating for gender rights through numerous strategies. It monitors  SGBV-related court trials, does community outreach and trains law-enforcement and justice officers in the implementation of the gender laws.
In May 2014, however, a serious threat to the progress of this work appeared with deadly Ebola disease. The epidemic has had a huge impact on women and children. According to Save the Children UK, another civil-society organisation, an estimated 2 million children in West Africa are at risk of contracting Ebola. Most of them have lost either one or both parents and depend on the mercy of others for survival. These children are especially at risk of being abused.
There are also indirect consequences of the disease: In Sierra Leone, reports of sexual abuse increased in 2014. This may be related to the fact that the police have been busy monitoring Ebola response measures such as enforcing quarantines and tracing suspected cases of infection and reduced efforts to investigate crimes accordingly.
Another challenge faced is that the public emergency regulations forbid public gatherings that are not Ebola-related. Therefore, most gender project activities, such as focus group discussion and school outreach programmes, had to be put on hold.
The good news is that the judiciary has taken some measures to ensure speedy trial in cases of sexual and gender-based violence. These measures inspire hope in our collective efforts to fight SGBV even in times of Ebola.
Alie Yunus Kallay is a journalist, radio presenter and publisher. He lives in Freetown, Sierra Leone.
aliup88@gmail.com
Link:
Centre for Accountability and Rule of Law:
http://www.carl-sl.org/home/