Peacebuilding
Comprehensive approach
Peace, security and development are inextricably linked, according to Germany's Federal Government. Its recently adopted policy guidelines on preventing crises, managing conflicts and building peace attempt to integrate foreign, security and development poli­cy into a coherent framework for dealing with conflict. This comprehensive approach is expected to yield better results than isolated endeavours.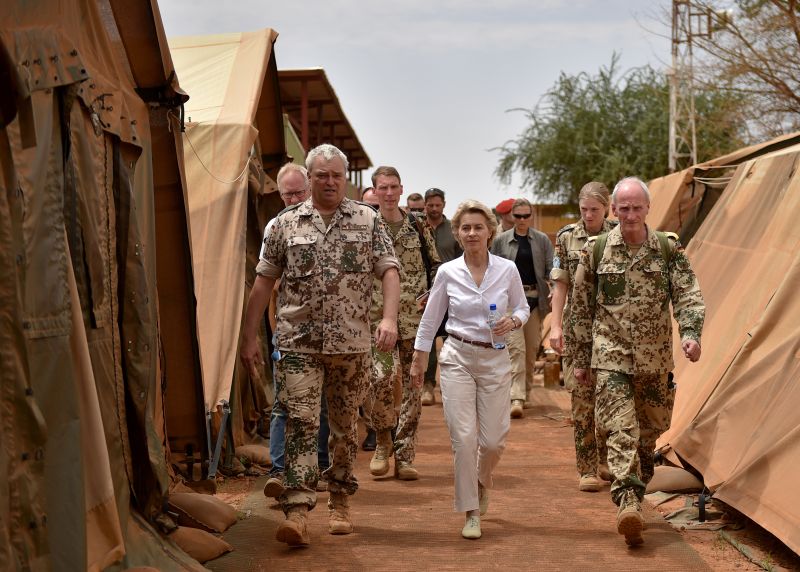 Britta Pedersen/picture-alliance/dpa
The Federal Government vows to step up crisis-prevention measures and continue developing its early warning mechanisms. In contrast to past policies, the guidelines prioritise crisis prevention which is considered more effective and less costly than acute crisis response. The government also prioritises civilian conflict-resolution measures like civilian peacekeeping. When all political options have been exhausted, however, the use of military force – in line with international law – may be the last resort.
The new guidelines acknowledge that the world is in disarray. Conflict dynamics have changed since the end of the Cold War, so new approaches must be taken. This is especially true of fragile states where governments:
have lost the monopoly on the use of force,
are unable to provide basic public services and
are not accepted by all people they are supposed to serve.
The guidelines warn that nationalism and violent extremism may spark violence. Climate change and natural disasters are similarly considered potential triggers because they reduce the availability of scarce resources and are drivers of forced displacement. The Federal Government intends to tackle these and similar challenges. It wants to contribute to long-term crisis management and peacebuilding. While appreciating that every conflict is different, the guidelines identify three basic phases:
latent conflict,
violent conflict and
post-conflict situations.
The phases tend to overlap, and transitions may often be fluid. Nonetheless, the guidelines assign each phase a strategic approach with specific instruments. During a phase of latent conflict, crisis prevention measures are to be applied. Depending on the degree and cause of fragility, medium- and long-term institution-building and capacity-building measures may be required. It may also be necessary to protect people from violent non-state actors. The Federal Government believes that promoting employment and private-sector development can reduce inequalities and, among other instruments, help to prevent crises.
Once conflicts turn violent, the guidelines call for conflict resolution and humanitarian assistance. Crisis diplomacy, mediation and the support for negotiation processes should help to end the strife. Germany can offer training programmes to strengthen delegations' negotiating skills, for example, or provide institutional structures for negotiations.Transitional development assistance in the fields of food security or infrastructure can lay foundations for long-term development. All measures must be tailored to the conflict context, constantly reevaluated and updated, according to the guidelines.
In post-conflict situations, peacebuilding measures serve to prevent a crisis from flaring up again. They should tackle people's traumas and address the drivers of conflicts. Germany supports transitional justice and reconciliation processes with the aim of investigating, recognising and prosecuting past injustices. Judges and other staff of the judicial system are to be trained. Security-sector reform, including the disarmament, demobilisation and reintegration of former combatants is another way to support states in the aftermath of conflict.
All measures are to be coordinated between the different Federal Ministries. The government wants to improve policy coherence. In what has become known as the "comprehensive approach", it aims to better mainstream its policies on peace, security and development. This aspiration not only includes enhanced inter-ministerial coordination but also better cooperation with the EU as well as the UN. The guidelines, moreover, promote increased cooperation with civil society, religious communities, foundations, business companies and academia.

Link
The Federal Government's new guidelines:
http://www.auswaertiges-amt.de/cae/servlet/contentblob/765026/publicationFile/231263/170614-Leitlinien_Krisenpraevention_Konfliktbewaeltigung_Friedensfoerderung_DL.pdf