Rule of law
Reports of torture
Young offenders in Ghana are often denied their rights. The Juvenile Justice Act prescribes that minors in conflict with the law should be kept in remand homes. If there are no such homes available, they should be sent back to their parents for custody and brought to the court each time the case is called. However, the reality is different: young criminals are kept in jails for adults. There are also alleged cases of torture to extract confessions.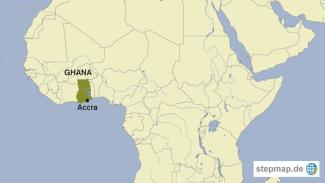 stepmap.de
A year ago, 15-year-old Issah Yakubu was picked up in his village in Ghana's north-east region for allegedly leading a gang to steal a motorbike. He was put into prison. Recently, he returned home on bail. Yakubu recalls the harrowing experience of his arrest: "I was with my friends at a musical concert. Suddenly, people stormed the place, held me, and asked me about the whereabouts of their motorbike. I told them I didn't know anything about a motorbike," Yakubu says.
"They pulled a knife and kept beating me. Finally, they took me to the police." At the police station, the nightmare continued: "The police used electric shocks and caned me with their sticks to force me to confess," Yakubu alleges. He was later transferred to Tamale Central Prisons, a bigger prison keeping both adults and juvenile offenders for remand.
Section 1 (1) of Ghana's Juvenile Justice Act says the state has "to protect the rights of juveniles, ensure an appropriate and individual response to juvenile offenders and provide for young offenders". Juveniles are defined as persons under eighteen years. According to the Act, bail has to be offered within 48 hours, and the trial of a juvenile should not be later than six months after his arrest. But Yakubu was kept in prison for close to a year without bail.
According to an assessment by the Commonwealth Human Rights Initiative (CHRI), "police personnel mostly are unaware of the existing laws and procedures relating to children in conflict with the law and thereby end up infracting these laws." For instance, the law further prescribes that a juvenile should not be put into the same prison as adults. While he was imprisoned though, Yakubu slept in the same cell with adult convicts, he says.
The Commission on Human Rights and Administrative Justice (CHRAJ), a governmental organisation committed to protecting human rights and administrative justice, intervened to secure bail for Yakubu. "He was not supposed to be in an adults' prison," says Stephen Azantilo, CHRAJ's regional director.
There are numerous reports about torture used by security operatives to make suspects confess to crimes. Yakubu's experience is just one out of many. "When they used electric shocks on me I was confused," he recounts. "The prosecutor wrote down things in the file that I didn't even know about." Yakubu maintains that he is innocent.

Maxwell Suuk is a journalist in Northern Ghana.
suuk.max@gmail.com

Links
Commonwealth Human Rights Initiative (CHRI):
https://humanrightsinitiative.org/
Commission on Human Rights and Administrative Justice (CHRAJ) Ghana:
https://chraj.gov.gh/