Law reform
Decongesting prisons in Ghana
For years now, Ghana has tried without success to pass law reforms that would introduce non-custodial sentencing for offenders with light offences. The move has been fronted as a solution to decongest the country's prisons. Now, the call is even more urgent as many prison facilities struggle with multiple challenges.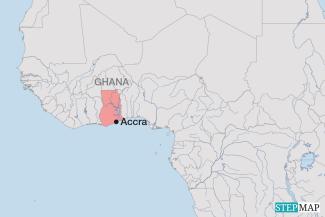 Stepmap
There is severe crowding in many of the 46 prison facilities around the country. While inmate populations have grown, there has been little or no investment in improving the infrastructure. As such, many prisons facilities are run down, and prisoners live in conditions that do not meet acceptable standards.
Prisoners too have human rights. The state of Ghana's prisons has put many inmates' health at risk. They also lack education and vocational training programmes helping prisoners to reintegrate into society upon release. This has triggered calls for rapid action to address the problem and ensure detainees are treated with dignity and respect. 
Organisations such as the Crime Check Foundation and Amnesty International Ghana have repeatedly urged the government to reform its criminal justice system to reduce incarceration and improve conditions for the inmates. According to Ghana's Prison Service, the country's prison population has grown from 10,265 to 15,208 prisoners. Of these 1,494 prisoners are foreigners.
Ibrahim Oppong Kwarteng of the Crime Check Foundation and ambassador extraordinary of Ghana Prisons urges the Ghanaian government to review the country's criminal justice laws. "Ghana's reputation as a champion of human rights and a shining example of democracy in Africa could be damaged by certain flaws in the Criminal Offences Act 1960," he said, citing the absence of a non-custodial sentencing law, harsh judicial sentences, alleged police extortion and extreme prison overcrowding.
Activists also advocate for increased support and resources for ex-convicts to help them effectively reintegrate into society and reduce the likelihood of reoffending, leading to a safer and more just society for all.
Recently, the Ghanaian government has responded to this call by working on introducing in parliament a non-custodial sentencing bill, also known as the Community Service Bill. The bill aims at reducing prison populations by providing alternative forms of punishment for minor offences. If passed into law, it will allow offenders to carry out community service instead of being jailed.
Speaking at a graduation ceremony for 43 inmates at the Ankaful maximum security prison in the central region recently, Robbin Kwesi Asamoah Fenning, a deputy director of prisons, prayed that the bill would not "gather dust" on the shelves of Ghana's Parliament. He urged the government to expedite its enactment.
This congestion is worsened by budgetary constraints, restricted space, insufficient resources and personnel and a lack of staff development for officers, all of which contribute to difficulties in reforming and rehabilitating offenders. 
Ghana's Commission on Human Rights and Administrative Justice contends that non-custodial sentences such as parole, community service, probation or alternative dispute resolution can help address this problem. 
Dasmani Laary is a journalist in Ghana.
laarygna@gmail.com