Summer special
A Muslim's response to Islamist terrorism
In the west, some still complain that the response of Muslim intellectuals to Islamist terrorism is somewhat half-hearted. They should watch Abderrahmane Sissako's movie Timbuktu. It deals with a fundamentalist militia taking over a city in the Sahel zone in a poetic, but certainly not ambivalent manner. The film is most impressive and deserves to be watched by many people.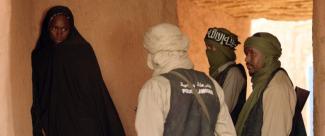 Film still/Cannes Film Festival/picture-alliance/dpa
Timbuktu was shot in Mauretania, but deals with the Islamist regime imposed on the Malian city of that name by militants for several months in 2012 and 2013, until they were driven away again by Malian and French troops. The screenplay is powerful, and so are the images.
Sissako was born in Mauretania and grew up in Mali. He studied in Soviet-era Moskow and later lived in France for many years. His storytelling is nuanced, and he shies away from simply pitting good versus evil. All the persons he portrays are human beings. They have feelings, they believe in things, but they also harbour doubts. They think and argue with one another. Many of the militants are insecure and confused, and some are incredibly violent. Nonetheless, they are human, as are the people they are suppressing.
The fundamentalist leaders rely on the force of their guns, but are not able to discuss at eye-level with the local Imam who tells them they are wrong. One of them keeps taking cigarette breaks. Smoking is prohibited of course, but his addiction is stronger then his militia's principles.
As the scenes unfold, it becomes obvious just how ridiculous it is to try to prohibit music or football. In one scene, a young woman is whipped in public because she was caught singing – and, in pain, she bursts out in a sung prayer. In another telling scene, young men play imaginary football. They run over the pitch, they wave their arms, one even scores a goal – but there is no ball to be seen.
The plot involves many different characters. A non-religious conflict over a cow escalates, someone is killed, and it becomes absolutely clear that the self-appointed religious leaders of the occupied city are simply not up to handling worldly issues of this kind. Without lengthy lectures, Sissako's movie excels in highlighting the arrogance and brutality of the Islamist ideology whilst also depicting its proponents' incompetence in regard to both religious and secular matters.
For good reason, Timbuktu won several Césars, the French equivalent of Hollywood Oscars, in 2015. It does what the arts should do – it doesn't merely entertain, it enlightens. It is also a good example of insiders being better able to tackle sensitive political issues than outsiders. Only someone who understands Mali well can deliver such a convincing portrait of its recent drama.
Had a North American or European director tried to deal with this multi-layered topic, the plot would probably have centred on an aid worker who struggles to come to terms with African reality. That was most disturbingly the case in the "The last king of Scotland", a film that was coproduced by British and US-based companies. Forest Whitaker, the black American actor, won an Oscar for playing the Ugandan dictator Idi Amin, so the film got international praise. It told the story of a young Scottish physician who goes to Uganda to assist the poor and becomes entangled in a brutal regime. Its underlying message was that Africa is a dangerous continent and that naïve do-gooders from Europe cannot do anything about that. It did nothing to help the audience understand the problems of a particular African country.
Sissako's approach is completely different. He assesses African problems from an African perspective. The people he presents are not a mass of poor people, though they are certainly not wealthy by western standards. They are not destitute, however, they have a sense of cultural norms and they lead meaningful lives. What they lack is political and spiritual freedom under Islamist rule.
Sissako is a director who deserves international attention. He deserves attention in Mali too, of course, but as Sissako told the Guardian in an interview in May 2015, his film had not been screened there yet. The reason, he said, was not fear of militants, but lack of cinemas.

Films
Timbuktu, 2014, France/Mauretania,
director: Aberrahamane Sissako
The last king of Scotland, 2006, Britain/USA,
director: Kevin Macdonald