Popular music
Jamaica's nation language
In Jamaica, English is still the official language, and Standard English is taught in schools. For a long time, the local Creole, called Patois, was the language of the countryside and the uneducated. It was considered to be inferior "bad English". Today, however, a vibrant pop culture uses it – and it resonates globally.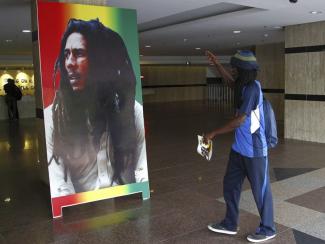 Koula/picture-alliance/EPA
Patois serves to express people's identity. It gradually started to gain ground in the early 1960s, around and after independence. Jamaicans expressed pride in their culture and their language. Patois was increasingly recognised as a "nation language", representing the hybrid culture of the island, with its English vocabulary, West African grammar, occasional indigenous words and a particular, definitely non-British pronunciation. Cultural historians like Rex Nettleford point out that Jamaica's cultural identity was formed by oral traditions.
Local poet, folklorist and performer Louise Bennett, known as "Miss Lou", was one of the first artists to write and perform in Patois in the 1960s. For 20 years, she had a popular radio show which greatly contributed to establish the idea of the Jamaican Creole as "nation language". In the 1980s, poets like Linton Kwesi Johnson, Michael Smith and Mutabaruka wrote and performed in Patois. By then, doing so meant taking a clear anti-colonial, anti-racist stance.
Jamaica is a small island, but it has emerged as a global superpower in the area of cultural and linguistic influence, mainly due to its music: songs export Jamaican language to countries around the world. 
From the start, Jamaican popular songs used Creole and English. This was particularly true for reggae music. Jamaican history professor Edward Kamau Brathwaite calls it "the native sound of the cultural revolution that would eventually lead to Bob Marley."
In 1974, reggae musician Bob Marley recorded the song "Them Belly Full". The chorus offered commentary in the form of folk wisdom in Jamaican Patois, whereas the English verses expressed social grievances including the rising costs of living. It stated that a "hungry mob is an angry mob" and that "the weak must get strong." The chorus included two Jamaican Creole language proverbs stating "Rien a faal bot di doti tof" (The rain is falling but the earth is hard) and "Pat a bwail bot di fuud no nof" (The pot is boiling but the food is not enough). This song hailed a new era of the use of creole language in music.
By the 1980s, a new genre of Jamaican music emerged: Dancehall, with language spoken rather than sung. Patois, as the main language of spoken interaction, came to dominate the genre. It is now the main language for artistic public usage, reflecting rising national consciousness since independence from Britain in 1962.
Recording technology is facilitating the spread of Patois today in a similar way that the printing press fostered the emergence of what are now Europe's national languages. In the 15th and 16th century, local vernaculars became codified in Europe and then contributed to defining national identities. Recorded Jamaican popular music, from Millie Small through Marley to Shabba Ranks, Vybz Kartel and Chronixx, represents a body of orally produced artistic language that helps to define national consciousness among the people of the Jamaican nation state. (hd)