Human rights
Threats to Ugandan activists
People who defend human rights in Uganda are often subject to threats and abuses. Human Rights Watch states that "ongoing threats to freedom of expression, assembly and association continue to raise serious concerns. Security forces largely enjoy impunity for torture and extrajudicial killings."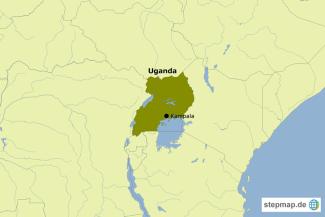 stepmap.de
Many human-rights violations go unnoticed, according to the Human Rights Centre Uganda, a non-profit, civil-society organisation concerned with the promotion and protection of fundamental rights. It particularly emphasises the rights of human-rights defenders (HRDs).
Many of the recorded incidents concern pressure on journalists and media houses. One example is a group of human-rights activists in Western Uganda, who started to air a talk show on local radios in 2006. The show is called "Twerwaneho", which means "lets struggle for ourselves".
"We try to make an impact with our programmes," says Gerald Kankya, coordinator of the Twerwaneho Listeners Club (TLC). "As a response, we have been harassed many times." He reports that the transmitter of Live FM radio station, was burned by soldiers after hosting the programme. "Until today, this crime has not been investigated," Kankya says. The TLC unites human-rights defenders in the Fort Portal district in western Uganda.
"In 2013, we had our bank accounts frozen, homes and offices searched and computers stolen because we had talked about land grabbing," Kankya adds. Land grabbing is a major issue in the region. Recently, a group of people in the area were evicted from their plots with the aid of the national army, which has no mandate to do this. However, activists who challenge such evictions sometimes even face charges themselves.
In January 2015, TLC was attacked. Kankya says the reason was that his group was said to possess documents that alleged that Toro royal family had illegally acquired land in western Uganda to develop a commercial school project.
Social media has become an easy channel to exert pressure, facilitating threats against both activists and journalists. In February this year, Ugandan investigative journalist Raymond Mujuni received a tweet that read: "I just wanted to warn you that we are watching you everywhere you go."
Journalists who are believed to have information that is "potentially damaging to the state have had their phones tapped and e-mails hacked", Raymond Mujuni says. However, human-rights activist keep on struggling, "hoping that people will pay attention to the issues we are talking about," Gerald Kankya says. "I feel we stand for the right things."
Grace Atuhaire is a freelance journalist and blog activist from Uganda, currently based in Nairobi, Kenya.
graceseb@gmail.com
Links:
Human Rights Centre Uganda:
http://www.hrcug.org/
Twerwaneho Listeners Club:
http://www.tlcuganda.org/
Human Rights Watch:
http://www.hrw.org/africa/uganda