European Union
At rock bottom
"Europe is not in good shape," said Jean-Claude Juncker, the president of the European Commission, in his state of the union address to the European Parliament on 8 September 2015. After the deep rifts that occurred during the so-called euro crisis, the EU is now torn by dramatically escalating internal conflict as a result of the refugee crisis – to the detriment of people seeking asylum.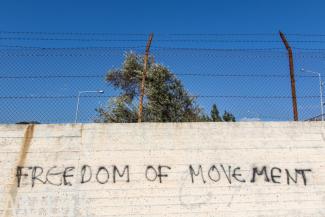 Geisler-Fotopress/picture-alliance
Since summer 2015, the "worst refugee crisis since World War II" (UN refugee agency UNHCR) has been perceived as the greatest challenge of all for Germany and Europe. The 28 member states' unwillingness to accept asylum seekers with dignity and solidarity has plunged the EU into an existential crisis. Europe is betraying values such as liberty, equality and respect for human rights, including those of minorities.
The dismal refugee policy currently pursued by the EU reveals – as if under a magnifying glass – how it has always been: beating back refugees on Bulgaria's and Greece's borders with Turkey, degrading treatment of asylum seekers in EU-financed detention centres and squalid migrant camps have been the order of the day in the EU for years. The abuse has been accepted by the EU member states, in some cases with complacency. Above all, it has not been systematically penalised by EU institutions.
Now, with the so-called communalisation of asylum law, the failures of the past are all becoming visible. The fact is that there is no common European asylum system, even though the EU states have been working on one since 1999. The system of protection that exists in the EU is no more than a raggedy patchwork. A common asylum law that complies with human-rights principles is a long way off.
The long and deep-rooted crisis in European asylum policy is reflected by the so-called Dublin system, which largely assigns responsibility for examining asylum claims to member states on the EU's external borders. Old ways live on: Europe is quick to agree on new exclusion rules but is hopelessly divided when it comes to accepting refugees.
In the case of Syria, a modicum of foresight would have sufficed to anticipate that neighbouring states would run out of protection capacity. Five years after the slaughter began, asylum seekers are abandoning hope of an early return. Four million live in Lebanon, Turkey and Jordan under conditions that range from difficult to atrocious. Humanitarian aid in the main host countries is chronically under-financed. The UN organisations are repeatedly compelled to reduce the refugees' food rations.
Despite civil war in Syria since March 2011, a mass exodus from Iraq in the face of ISIS terrorism, Libya's slide into civil war, the catastrophic situation in Afghanistan and Somalia and the repressive dictatorship in Eritrea, Europe thought it could remain an onlooker in the task of accommodating refugees. In 2015 at the latest, that attitude became obsolete.

Right to life with reservations
"How many more deaths? A European sea rescue system now!" Pro Asyl voiced that appeal to the European Parliament as far back as summer 2014. The human-rights organisation explicitly demands the creation of a European sea rescue service and legal, non-dangerous routes for refugees in order to stop people dying on Europe's external borders. That demand shows how radically refugee work has changed: it is a matter of life or death! In 2014, for example, 150,000 refugees were rescued by the Italian navy's Mare Nostrum operation, but more than 3,500 boat people died. Instead of that operation being expanded, Mare Nostrum was superseded at the end of October 2014 by a European "light" version called Operation Triton.
Headed by the EU border guard agency Frontex, Triton had a far smaller budget. It also covered a radically reduced area. The consequences were predictable: fewer rescues mean that even more people die. The operation became an exercise in end-of-life care. It was not until April 2005, when more than a thousand people died in the central Mediterranean Sea within the space of a few days, that the international outcry rose to a pitch that forced the EU heads of state and government to take action. They raised Triton's budget and extended its operational area, putting its capabilities back on a par with Mare Nostrum.
Even though more lives have been saved since then, people continue to die. Which is why many rescue missions, even today, need to be secured by civil society. Initiatives like Sea-Watch, Médecins Sans Frontières and Migrant Offshore Aid Station (MOAS), which all have rescue vessels in operation, are doing invaluable work – as is the Alarm Phone for Boat People in Distress at Sea – helping people where European governments fail to meet their humanitarian obligations.
But even for those who survive the crossing, the ordeal continues after their arrival on Europe's shores. As the UNHCR stated on 4 September 2015, "they face chaos and suffer indignity, exploitation and danger at borders." Since July 2015, the public has been able to observe the refugees' suffering in daily live broadcasts from the Greek holiday islands of Lesbos and Kos, from the Greek-Macedonian border and along the entire route through the Balkans. The humanitarian disaster has been fully documented: exhausted people, many of them children, are still heading for the heart of the EU – homeless, with no medical care and no secure food supply and enduring appalling hygiene conditions. Daily appeals to get help to the dispossessed, voiced by initiatives, human-rights organisations and the UN, have gone unheeded.
Greece more or less opened a corridor across the country but failed to arrange humanitarian assistance along it. There was no fast and concerted disaster relief effort by the EU and no ad hoc initiatives by member states to spare asylum seekers the long march to freedom and allow them to travel legally. It was left predominantly to private initiatives to secure the refugees' survival along the route.

Blueprints from Brussels
On 9 September 2015, the EU Commission grandly presented a "comprehensive package of proposals which will help address the refugee crisis that EU member states and neighbouring countries are facing." Another 120,000 people in clear "need of international protection" were to be relocated, especially  from Greece and Italy, to other EU members within two years – on top of the emergency redistribution of  40,000 refugees that had been previously agreed. Plans were also announced to make return policy more effective and to strengthen Frontex's mandate in return operations. The British newspaper The Guardian summed up: "Juncker talks of welcoming refugees, while turning Europe into a fortress."
On 22 September 2015, EU member's home ministers approved the proposal to relocate 160,000 asylum seekers – most of them from Greece and Italy – to other EU member states. Some member states, however, disagreed. The EU has since been trying to rebuild consensus by emphasising attempts to keep refugees away. The pressure on Greece to seal off  borders keeps rising. Moreover, policymakers are wooing Turkey in the hope of its authorities stopping refugees from moving on.
The EU also wants to register and initially host asylum seekers in Greece or Italy at so-called hotspots. Hotspots and the emergency relocation mechanism are supposed to supplement the long-failed Dublin system for allocating responsibility for asylum applications and keep it artificially alive.
In a situation where only a few EU countries accept substantial numbers of refugees, there seems to be no alternative to these concepts. In actual fact, however, they are unrealistic and highly problematical from a human-rights perspective. Hotspots in Greece and Italy – and elsewhere if escape routes change – will not end the misery on Europe's periphery. Instead, they pose lots of unanswered questions with the frightening prospect of new detention centres being created to hold refugees for a long time to come.
The idea is to use the hotspots to relocate refugees with a good chance of gaining asylum, which currently means people from Syria, Iraq and Eritrea if they apply for asylum at the hotspot. However, the approach says nothing about how other refugees with similar needs and right to protection should be handled – for example, refugees from Afghanistan. And what about those whose applications are rejected in "rapid screening"? They are to be swiftly deported from the "waiting zones" in an EU-financed Frontex operation. By mid-January, however, a mere  322 people were actually able to move on to other European countries. At this speed, it would take 196 years for all to relocate.
In pursuit of its deal with Turkey's authoritarian regime the EU is keeping silent in regard to Turkish violations of human rights and refugee's rights. The hope that, with some EU support, Turkey will serve as a safe third country where refugees can be expected to stay, is doomed to fail. Turkey systematically abuses fundamental rights such as the freedom of the press,  and the government has recently been fanning the flames of its domestic armed conflict in Kurdistan. Sooner or later masses of people are likely to flee from that region.
The call for a change in refugee policy is growing louder. At the same time, though, populist and racist movements are gathering strength all over Europe. If there is to be any way out of Europe's current existential crisis, a "coalition of the willing" now needs to be swiftly formed to reorganise protection for refugees in Europe. The key to that lies in Berlin. With her clear and powerful message – "If we have to apologise for showing a friendly face in emergencies, then that is not my country" – the German Chancellor signalled that Germany has a responsibility. Europe has to accept that moral responsibility as well.

Karl Kopp is director for European affairs of the human-rights organisation Pro Asyl and a member of the board of the European Council on Refugees (ECRE).
koppeu@gmail.com
Links:
EU on addressing the refugee crisis:
http://europa.eu/rapid/press-release_IP-15-5596_en.htm
Pro Asyl on EU refugee policy (only available in German):
http://www.proasyl.de/de/news/detail/news/grenzen_dicht_puffer_drumherum_die_ergebnisse_der_eu_verhandlungen_im_ueberblick/