Humanitarian catastrophe in Yemen
IRC: More money and peace talks needed for Yemen
A humanitarian catastrophe is unfolding in Yemen. More than ever, support from the international community is required today. On 1 March, however, a UN donor conference only pledged a little more than half of the money that humanitarian agencies consider necessary.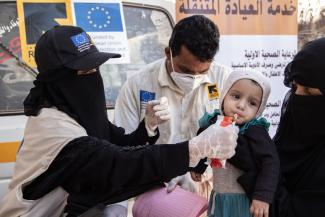 IRC
War broke out in Yemen in March 2015. On one side is the Yemeni government's military alliance, which is led by Saudi Arabia and supported by the USA and various European powers. On the other side is Shia Houthi rebels who are supported by Iran (see Maysam Behravesh in D+C/E+Z e-Paper 2018/01). Despite UN peace efforts, no end is in sight.
The situation is disastrous for the population of Yemen. Two thirds of almost 30 million people now depend on humanitarian aid. More than half are threatened by starvation. The majority of Yemeni children are underdeveloped due to malnutrition.
The tragic humanitarian situation is made worse by a collapsing economy and an unstable financial system. The Yemeni currency, the Rial, lost over 25 % of its forex value in 2020 alone, and food prices have soared. Even state institutions have stopped paying salaries. Food is still available, but most people cannot afford it.

More donor funding needed
Dependence on aid agencies has become greater than ever. More than 208 humanitarian organisations currently support an average of 13 million people across Yemen every month, relying to a large extent on funding from public donors such as Germany's Foreign Office or ECHO, the European Commission's Directorate-General for ­European Civil Protection and Humanitarian Aid Operations. However, the UN pledging conference on 1 March resulted only in pledges worth € 1.7 billion, a little more than half of what is needed. Ahead of the event, demands had been raised for € 3.3 billion.
The € 1.6 billion shortfall shows how the most prosperous nations are currently shying away from addressing critical global problems. While money is not all that is needed, funding is indispensable for saving lives. Without money, aid agencies like the International Rescue Committee (IRC) cannot deliver the support needed. As a result, people will die.

Policy change for achieving peace
Unless the international community exerts more pressure on the parties involved in Yemen's war, war crimes and impunity will continue and no peace process will be restarted. The change of course announced by the new US administration inspires hope. Under President Joe Biden, the US intends:
to reverse the previous administration's suspension of aid to Yemen's Houthi-controlled North,
to interrupt arms sales to Saudi Arabia, and
to end support for the offensive operations of the Saudi-led military coalition.
It also matters that Germany's Federal Government has extended its ban on arms exports to Saudi Arabia until the end of 2021. At the same time, it must be ensured that German weapons do not reach Yemen via Egypt, the United Arab Emirates or other routes, and that they are not used in the context of other EU projects in Yemen.
The US administration's decision not to classify the Houthi movement as a terrorist organisation has brought about real change on the ground. Declaring them terrorists, would have made imports of commercial and humanitarian goods impossible, with civilians suffering most.

Long-term solution needed
All these steps only amount to the beginning of the international community's urgently needed commitment to resolving the conflict. In March, the US will take over the presidency of the UN Security Council. Washington should use this opportunity to strengthen international law as the foundation of international relations and to hold those who violate it accountable.
The international community must prevent further escalation of Yemen's crises. Accordingly, it must:
fulfil financial pledges fast,
ensure access to humanitarian aid,
provide the needed goods (including Covid-19 vaccines) to the country and
negotiate a lasting cease-fire.
Tamuna Sabadze is Country Director in Yemen for the International Rescue Committee.
IRCDeutschland@Rescue.org