Online news portals
Need for government advertising makes media vulnerable
Online media have proven more able to resist the pressure of Hindu supremacists than mainstream media. TheWire.in, which I work for, is one of several websites that produce serious news with an eye to factual truth and non-partisan balance. Others include TheQuint.com, Scroll.in and ThePrint.in.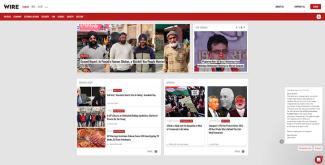 TheWire.in
To some extent, our stamina results from personal commitment to professional journalistic work. It matters very much, however, that our business models do not depend on government advertising. As is true of many developing countries, such advertising has historically contributed the bulk of revenues to Indian news organisations. It typically still does, so long-established media houses are under huge pressure to toe the government line. It is no coincidence that independent news portals have proven similarly indispensable in other countries run by right-wing authoritarians. Examples include the Philippines (see Emmalyn Liwag Kotte on www.dandc.eu) and Sri Lanka (see Arjuna Ranawana on www.dandc.eu).
Unlike the mainstream media, we depend on users' donations and, to a lesser extent, some private-sector advertising. Hosting a website is much cheaper than printing and distributing a newspaper or broadcasting TV and radio programmes. Accordingly, online media can spend a much larger share of their money on generating content. At the same time, we benefit from the fact that smartphones have become omnipresent. To reach a mass audience, TheWire produces content (written, audio and video) in English, Hindi, Urdu and Marathi.
According to Indian law, TheWire cannot accept donations from abroad. We are, however, allowed to sell services internationally, and anyone who wants to support our work can subscribe to our newsletter called the India Cable. It is available on Substack.

Arfa Khanum Sherwani is a senior editor with the independent news website TheWire.
Twitter: @khanumarfa
TheWire: https://thewire.in/