Journalism
Brave Filipina fighting for the factual truth
The independent website Rappler has become an indispensable source of information in the Philippines. Its relationship with social-media giant Facebook is complicated, to put it mildly.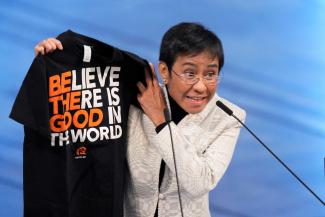 picture alliance / ASSOCIATED PRESS / Alexander Zemlianichenko
Maria Ressa is a brave journalist who dares to speak truth to power. In December, Ressa was awarded the Nobel Peace Prize. Her news website, Rappler, has become famous internationally. The Nobel Committee chose her and Russian journalist Dmitry Muratov of Novaya Gazeta, appreciating that both have been promoting democracy by exercising the freedom of expression and not caving in to their government's authoritarian tendencies.   
Ressa is indeed used to facing adversity. "In less than two years, the Philippine government filed 10 arrest warrants against me. I've had to post bail 10 times just to do my job," she says. At one point, she and a former colleague were convicted for cyber libel because of a story they published before that crime was even defined by law. "All told, the charges I face could send me to jail for about 100 years," Ressa reckons.
International attention
Nonetheless, she considers herself lucky because international lawyers and human-rights groups help to protect her. One example is the #HoldTheLine Coalition – a global collective of 78 independent organisations. Ressa is aware that many harassed journalists do not get that kind of international attention, while "governments are doubling down with impunity."
Ressa says that 22 journalists were murdered in the Philippines from June 2016, when right-wing populist Rodrigo Duterte became president with not quite 40 % of the vote, to December 2021, when her Nobel ceremony took place in Oslo.  Reports of the National Union of Journalists of the Philippines (NUJP) show that all of them were killed in the provinces. Indeed, Duterte's track record is drenched in blood (see box). 
Duterte's rise was hugely propelled by disinformation, with social media playing an important role. Ressa worries that extensive disinformation networks on social media are likely to affect the  presidential elections in May as well (see Alan Robles on www.dandc.eu). The Rappler news website has published reports that show how digital platforms are being used to spread fake news and manipulate public opinion. In response, Facebook and Twitter have removed various fake accounts, but serious problems persist. Ressa's rhetorical question is: "How can you have election integrity if you don't have integrity of facts?"  
Highly influential Facebook 
Indeed, Ressa's experience with Facebook is mixed. On the one hand, the Silicon Valley multinational has sometimes been a valuable partner, but on the other hand, it facilitates propaganda and lies.
More than 70 million people use Facebook in the Philippines. According to the Philippine Social Weather Survey, some 14 million adult individuals used this social-media platform as their daily source of news in the first quarter of 2019.  
It was on Facebook that Rappler started as a community page named MovePH in 2011. It then evolved into a multimedia news website. Rappler's Facebook presence greatly helped to increase its audience in the early years. Moreover, MovePH stayed useful in terms of citizen engagement and advocacy, encouraging people to become active in the protection of human rights, civil liberties and the environment.  
However, there is a much darker side to Facebook. Social-media platforms helped  Duterte to narrowly win the presidential elections in 2016. According to a study published by Oxford University, fake accounts served to flood social-media networks with fake news and inflate the number of likes and shares. The authors state that trolls were hired to spread propaganda and target Duterte's opponents. As a result, Duterte appeared to be more popular than he actually was.
Of course, Duterte officials deny allegations of this kind. However, numerous reports reveal that well-organised and coordinated social-media campaigns helped Duterte win the presidency (see Alan Robles on www.dandc.eu). One of his campaign managers told Rappler that "influencers" with strong followings on social media worked for his team.
Truth tellers under attack
The internet trolling did not stop after Duterte became president. Among many others, Rappler and its staff were attacked. Patricia Evangelista, a Rappler reporter, recalls: "We were called 'liars' and 'fake news'. Our license was put in jeopardy. Many advertisers disappeared." Rappler staff were banned from the presidential palace, while she and other colleagues suffered harassment: "Because we are women, the threats included rape." Things became especially bad whenever Rappler published long investigative stories, for example on extrajudicial killings.
Evangelista praises the attitude displayed by Ressa, her boss: "At great personal cost, she did not run, she did not hide, she did not compromise." She encouraged her team in the pursuit of the truth.
To some extent, Facebook has woken up to the problems. Indeed, Rappler is now one of its partners in a third-party fact-checking programme. The goal is to prevent the spread of false news.
The Marcos family returns
The background is that Rappler, in 2019, published reports that exposed disinformation campaigns that were designed to improve the image of the Marcos family. Ferdinand Marcos was the dictator who died in exile after having been toppled by the People's Power movement in 1986. His son Ferdinand "Bongbong" Marcos Jr. is currently running for president. Rappler revealed how social-media propaganda on platforms like Facebook and YouTube attempted to shore up the family's reputation. Relevant posts systematically denied the massive corruption and brutal human-rights abuses that Marcos Sr. was responsible for.   
In response to Rappler reporting, Facebook and Twitter removed accounts favouring the Marcoses. The pattern of online disinformation looked familiar. While the family denied any involvement, the support it enjoys in cyber space resembles pro-Duterte trolling. Observers have ample reason to assume that many of the same actors are involved. After all, Sara Duterte-Carpio, the daughter of the current head of state, is running for vice president.
Some fake accounts have been shut down, but it is easy to create new ones. Disinformation and propaganda have not stopped. In late January, another Rappler article revealed that Facebook pages and accounts were supporting both the Marcos family and the Duterte administration. It stated that false claims had been pushed "more aggressively" in the second half of 2021 and were "meant to undermine the credibility of media".
Coalition against disinformation
To improve matters, Rappler has teamed up with partners such as the National Union of Journalists of the Philippines (NUJP). In late January, they launched #FactsFirstPH. The coalition includes more than 100 groups, including from the church, the legal profession, the media and civil society.
The goal is to  help to restore election integrity by ensuring the integrity of facts. The instruments for doing so include fact checking, campaigning against false claims, raising awareness for factual truth and holding online liars legally accountable.
Legislators could support this effort. Ressa wants them to pass a law that would penalise companies that allow the spread of lies and disinformation on their platforms. She wants digital platforms to be classified as publishers who are accountable for the content of their websites.
Such rules would obviously make sense internationally. A big problem is that social-media platforms are not liable for user-generated content according to US law. As the most important corporations are based in the US, the impact in terms of disinformation has been harmful all over the world.  

Emmalyn Liwag Kotte is a freelance journalist who lives in Germany.
emmalyn320@hotmail.com