Private-sector development
"The right balance"
Innovative start-ups make a difference in Africa, but more needs to happen to create jobs for millions of young people. In our interview, Christiane Laibach of DEG – Deutsche Investitions- und Entwicklungsgesellschaft, the German development finance institution, elaborates the core challenges of private-sector development.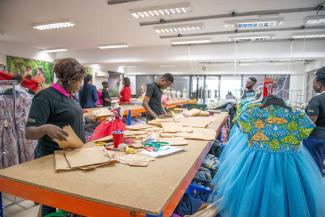 DEG
Can we be sure that every potential entrepreneur with a good idea gets access to loans in Africa?
It is difficult to answer your question in general. The less a country is developed, the more difficult it is for entrepreneurs to get access to financial services. There are other bottlenecks as well, because the investment environment must improve fundamentally in many African countries. Challenges range from bad roads and unreliable electric-power supply to lacking rule of law and a shortage of skilled workers. In such settings, it is very difficult to start an innovative business.
DEG supports small and medium-sized enterprises (SMEs) in the formal sector of African countries with credit and shareholdings. How do you find those companies?
We use several approaches:
We run offices in important African markets, and have just established a new one in Lagos. We are also present in Accra, Abidjan, Nairobi and Johannesburg, from where we reach out to partners. We mostly rely on local staff who have a solid understanding of their world region and its business community.
Moreover, we cooperate closely with African banks, and support their efforts to modernise and expand their activities. We have even established what we call German Desks in some branch offices of our partner banks in order to be more easily accessible to SMEs.
Finally, we cooperate with other ­European and international development finance institutions that share our mission of facilitating private sector development.
Our work is geared to allowing promising SMEs, once they have reached a certain size, to grow further and support sustainable development. Start-ups and the persons who establish them are not our primary target group – not least because they would like to get, and indeed deserve, more detailed attention on site than we can offer.
So you are not involved in technology hubs and other kinds of special institutions for entrepreneurs?
No, that requires too much specialisation, but we do appreciate initiatives of that kind. Experience shows that entrepreneurs benefit from an appropriate environment. Tech hubs typically offer good digital infrastructure, facilitate creative exchange with like-minded people and provide links to financial institutions. Moreover, they are often nodes in important international networks.
What kind of growth does Africa need to generate enough jobs for millions of young people? Innovative websites will probably not suffice.
Well, we do observe that the many new online platforms and apps that are emerging in Africa indeed only create a limited number of jobs, but at the same time, they are increasing local people's opportunities and standards of life. Thanks to them, consumers have more choice and better access to information in general. That matters. More­over, the relatively small number of jobs they create attract comparatively well-trained people, and that matters too. They are offering prospects in Africa. Obviously, however, many more jobs are needed for less skilled people, and that means that manufacturing and the processing of agricultural and other commodities must increase and that supply chains must improve.
DEG helps German and European enterprises to invest in developing countries. If we consider economic policy in general and employment promotion in particular – does it make a difference whether domestic or foreign companies create jobs?
In terms of employment promotion, the important thing is to generate as many jobs as possible, and not so much who exactly is hiring people. However, an advantage of foreign direct investors is that they normally bring along additional know-how and expertise. Foreign companies rely on up-to-date management methods and technology. That said, these companies will certainly not generate enough employment, so local industries will be decisive. For obvious reasons, the investment climate must be suitable for both foreign and domestic investors, and that raises issues we've already touched upon earlier. The private sector needs infrastructure, good governance and a trustworthy formalised framework.
If one reads the business press of rich countries, one can get the impression that a good business environment basically means low taxes. Formalising the informal sector, however, means to tax the large number of informal businesses.
Well, in Europe we take things for granted that actually result from government action. A modern economy needs strong infrastructure, and that includes strong systems for education and health care. It also includes the rule of law. Clear rules support entrepreneurship. Consider food processing for example. If there is legislation concerning use-by-dates and the disclosure of ingredients, companies have to comply with it, but they don't have to decide for themselves what standards make sense or are even indispensable. Tech entrepreneurs, moreover, obviously want intellectual property to be protected. Everybody must trust that the rules will be enforced. By contrast, corruption indicates dysfunctional governance. It is misleading to argue that market dynamism simply results from governments not intervening in markets. What really matters is to get the balance right.

Christiane Laibach is CEO of DEG – Deutsche Investitions- und Entwicklungsgesellschaft. DEG is a subsidiary of KfW group. Its mission is to promote private-sector activity in developing countries and emerging markets.
presse@deginvest.de