Social work
Four decades of charity
An Italian nun has spent decades supporting rural communities in Uganda and South Sudan.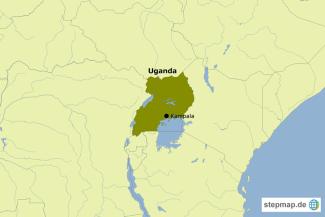 stepmap.de
Sister Giovanna Calabria arrived in Uganda from Italy in 1971, determined to spend her life helping Africans. Almost five decades later, she is still supporting the needy. "I only return to Italy to visit my family," she says. She belongs to the monastic order of Comboni Missionaries.
The toughest years were the late 1980s and early 1990s. They were marked by the escalating HIV/AIDS epidemic and the beginning of the armed insurrection of the Lord's Resistance Army. Sister Giovana stayed in Uganda, risking her life.
"I moved from village to village, following up on HIV/AIDs patients," she recalls. She gave medical advice and did her best to inspire hope. She also went to South Sudan, reaching out to communities affected by HIV/AIDS. Later, war-affected families got her attention too, Giovana remembers. For some time, her monastic Comboni order sent her to the Democratic Republic of the Congo.
Today, she is back in Gulu, a small town in northern Uganda, where a charitable organisation called the Comboni Samaritans is taking care of more than 1,200 needy children. They prioritise orphans of war and HIV/AIDS. A particularly marginalised group are the young women who were abducted as girls by the LRA rebels. Most of the girls were sexually abused and returned home with children of their own. Their communities still tend to reject them. The stigma of sexual abuse has proved to be lasting. Sister Giovanna listens to the plight of the young women and helps where needed. Their kids, moreover, are denied basic rights too.
Giovanna says the major challenge she faces is the overwhelming number of people in need. "The people are so vulnerable and you do much, but there is so little change in their lives." Because she never gives up hope, however, she has become a hero in northern Uganda.

Gloria Laker Aciro is a former war reporter and now heads the Peace Journalism Foundation of East Africa. She lives in Uganda.
glorialaker@gmail.com

Link
Comboni Samaritans of Gulu, Uganda:
https://www.facebook.com/csgulu/