Trauma therapy
"It is possible to build a peaceful society"
Iraq's autonomous region of Kurdistan is home to approximately 2 million refugees from various backgrounds and religions. Since 2005, the Jiyan Foundation for Human Rights has been providing medical, psychotherapeutic and social support to survivors of torture, persecution and violence. Katja Dombrowski discussed matters with Salah Ahmad, the Foundation's founder and president.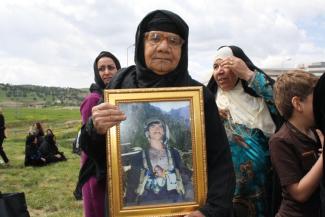 Jiyan Foundation
The Jiyan Foundation helps refugees and victims of violence in Kurdish northern Iraq. What refugee groups have come to your region?
Kurdistan has taken in many people who experienced persecution in southern and central Iraq. They include many Sunnis and Christians, for instance from Baghdad or Basra, refugees from Mosul, which ISIS controls, and of course a large number of Syrians. We also have refugees from Iran and Turkey, specifically Kurds and dissidents. Kurdistan is the only safe area in the region, and the Kurds have done their best to accommodate these people.
How many refugees are there?
Officially there are 1.8 million refugees in Kurdistan, though some say that we have over 2 million – with a population of around 5 million. This influx has obviously overwhelmed the Kurdish government. Kurdistan is fighting a war with ISIS. It is also experiencing serious financial difficulties, which are being exacerbated by low oil prices. The UN is playing a large role in caring for the refugees, and so are organisations like ours.
When did the refugees arrive in Iraqi Kurdistan, and why were they forced to leave their homes?
Until 2003, Iraq was ruled by a dictatorial regime that was controlled by the Ba'ath party. The Ba'athists destroyed everything in sight, including their own people. The Americans then committed the serious error of liberating the country without appointing a head of state. The result was gang warfare between armed groups and a wave of terror that has still not ebbed off. In 2006 and 2007 alone, 150,000 to 170,000 civilians were killed. Nouri al-Maliki, the former prime minister, wanted to crush the Sunnis. That's why there are so many Arab refugees in Kurdistan. Then came the ISIS terrorist militia. Thousands had to flee from Mosul and the surrounding area: Yazidis, Shabaks, Kaka'i, Christians and even Muslims. There are 14 or 15 religious groups who have lived in that region for thousands of years.
The fate of the Yazidis in particular got a lot of attention in western media. Why was that?
The Yazidis have a history of being persecuted and are worst affected by ISIS's attempted genocide. ISIS militants captured the Yazidi city of Sinjar as well as numerous villages, decapitated many people and abducted a large number of women. That was a traumatic experience.
What are living conditions like for refugees in Iraqi Kurdistan?
The camps are well equipped. The UNHCR provides food, electricity and water and organisations like the Jiyan Foundation offer medical and psychological care. Over 90 % of children go to school either inside or outside the camps. Refugees also allowed to work. At the moment, however, it is very cold. We don't have enough heaters and people are freezing in their tents.
Do some refugees live outside the camps?
Yes, those people who are doing well enough financially can rent a house. They make up maybe 10 to 15 % of refugees and tend to be Iraqi Arab. The Syrians are also very well integrated. They work hard and don't have a language barrier to overcome; most Syrians in Iraq are Kurds who speak the same dialect as we do. Many have found jobs.
Which refugee groups does the Jiyan Foundation focus on?
We work with everyone – the Jiyan Foundation doesn't take background or religion into account. Anyone who needs help is welcome and all the services we offer are free. The Jiyan Foundation operates nine trauma centres and is currently building a therapeutic garden for women and children who were victims of violence and need a place to find peace.  We have 145 employees in Kurdistan, including psychologists, psychotherapists, psychiatrists, physicians, social workers and physical therapists.
Are you the only organisation offering trauma therapy in the region?
No, there are several others. But we have been here for 10 years and have grown our organisation systematically. I opened the first Centre for Trauma Therapy in Kirkuk in 2005; I had to spend 15 months on site. Then we were asked if we could set up two more centres in Erbil and Sulaymaniyah. Now we have nine. We also train therapists. Twenty of our employees recently completed training to become trauma therapists.
How are all of these activities financed?
The Jiyan Foundation depends on international funding and donations. The most important donors include Germany's federal government, the EU, the UN and faith-based organisations like Misereor. We also cooperate closely with the Berlin Center for the Treatment of Torture Victims, where I myself have worked for many years. The Center supports us through professional exchange, joint projects and German infrastructure.
What does your work with refugees look like in practice?
We offer therapies for different target groups, for instance minorities, women and girls and children and youth. In order to provide our services, we travel not only to refugee camps, but also to women's shelters, prisons and orphanages. Our mobile teams travel to remote regions that don't otherwise have access to psychological care. Our goal is to provide people with the support they need to once again live normal lives. In therapy sessions, for instance, we tell people that they won't achieve anything through hatred or a desire for revenge. Victims feel these emotions very acutely. After all, many have experienced severe injustices.  We go to schools and make it clear to young people that there boys and girls are equal – we try to communicate an understanding of equal rights. There is a lot of violence in the schools, so we must show teachers how to deal with difficult children. We work with parents as well to help them understand why their child is behaving this way. This programme has been so successful that we have a waiting list for schools. Some parents have also become our patients because they recognise that we are able to help them. Everything we do is aimed at creating a peaceful society.
Is that possible at all while ISIS is carrying out violence, expulsion and repression in northern Iraq?
I think it is, as long as we don't give up. Of course, things are very difficult, but we are becoming more hopeful every day. ISIS is being beaten back and some areas have already been recaptured. The refugees hope that they will be able to return home. You can sense that they feel they have prospects for their future, which is also evident in the fact that people are getting married and having children in the camps. Thanks to therapy and trauma work, relationships within families have significantly improved. Families whose interactions were previously dominated by violence and conflict now live peacefully together.
You work with people from a variety of different religions, many of whom were persecuted because of their beliefs. What role does religion play in your work?
In our work, all members of all faiths operate as one team. I have never asked someone what religion he or she belongs to. It does not matter. We all have the same right to live here. When we work with our target groups, we also bring different religions together. Some groups are made up of three nationalities and religions. And people really benefit from that arrangement! Of course, we address religious repression and spell out, for instance, that ISIS does not represent the true Islam.
You yourself are Kurdish, come from Kirkuk and have experienced persecution and displacement. Was that why you decided to work with refugees?
I was politically active during the reign of Saddam Hussein and had to leave the country in 1981. As a refugee, I ended up in Germany, where I found asylum. I know the psychological traumas that many victims of torture experience. After I became a psychotherapist, I was able to help hundreds of people. Following the overthrow of Saddam Hussein, I saw an opportunity to help people in Kurdistan. We filed applications for funding, until we finally got support from the US State Department. I very much hope that we can continue our work for several years to come. Only through peace work, which we are performing alongside our therapeutic services, is it possible to build a peaceful, democratic society.
Salah Ahmad is a psychotherapist and the founder and president of the Jiyan Foundation. He lives in Germany and the autonomous region of Kurdistan in northern Iraq. In recognition of his work, he was presented with the Order of Merit of the Federal Republic of Germany in 2015.
info@jiyan-foundation.org
Links:
The Jiyan Foundation on the web, on Facebook and on Twitter:
http://www.jiyan-foundation.org
http://www.facebook.com/jiyanfoundation
https://twitter.com/jiyanfoundation