Menstrual health
Sanitary products still too expensive
Kenya has improved access to menstrual products a lot. In order to lower the price, it repealed added tax on sanitary pads and tampons back in 2004 – while the USA and European countries still tax these products as "luxury items". However, access to high-quality menstrual hygiene remains a challenge particularly for low-income women and girls in Kenya.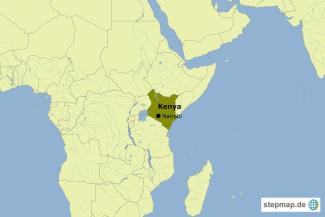 stepmap.de
In addition to lowering the tax, the Kenyan government has been setting aside funds to distribute free sanitary towels to teenage girls in school since 2011. However, the programme has seen implementation challenges with supplies often running out.
Menstrual Hygiene Day (MH Day) is a global advocacy platform that brings together non-profit organisations, government agencies, the private sector and the media to promote good menstrual hygiene management (MHM) for all women and girls. In 2016, MH Day published the study "Menstrual Health in Kenya". It found that 65 % of Kenyan women and girls were unable to afford sanitary towels.
The study further showed that two out of three women in rural Kenya receive menstrual hygiene articles from sexual partners. This means that a majority of women in the countryside depend on men for managing their menstruation. Some women even engage in sexual activity with the sole aim of receiving the necessary menstrual products in exchange.
The lack of menstrual products often stops girls from going to school when they have their period. Therefore, many rural women use homemade alternatives to industrially produced sanitary towels. There are also some local products, but local manufacturers still have to contend with taxes charged on raw materials. Additionally, new low-cost disposable sanitary pads from China have entered the market. But the quality of pads that go for under a dollar is questioned. Anyway, about one third of Kenyans live on less than two dollars per day.
Wanjiru Kepha, director of the Kenyan chapter of Huru International, a non-governmental organisation that provides reusable sanitary pads for school-going girls, raises another issue: women living in remote rural areas where there is poor infrastructure have to deal with the "extra costs of transport" to get to towns in order to buy pads, he says. This can "triple the price of the product."

Issac Sagala is a journalist and media trainer. He lives in Nairobi.
bwanasagala@gmail.com

Links
Menstrual Hygiene Day (MH Day):
https://menstrualhygieneday.org/
MH Day Study 2016: Menstrual Health Kenya.
https://menstrualhygieneday.org/wp-content/uploads/2016/04/FSG-Menstrual-Health-Landscape_Kenya.pdf
Huru International:
https://huruinternational.org/