Culture Special
They did not belong anywhere
In her novel "In the country of others", young French-Moroccan writer Leïla Slimani tells the story of Mathilde from Alsace and her husband Amine in the turbulent post-war decade in Morocco and shows the stony road created by cultural differences. This item is the second in this year's culture special with reviews of artists' works with developmental relevance.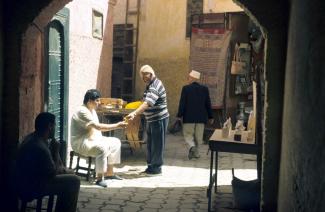 picture-alliance / DUMONT Bildarchiv / Michael Riehle
The young French woman Mathilde meets her husband Amine in 1944 during the celebrations marking the liberation of Alsace by the French army. The handsome officer is one of 35,000 Moroccan soldiers who fought alongside the French against the German occupation. The two marry. Happy to escape the confines of her bourgeois parents' home in Alsace and anticipating a completely different, exotic life, the adventurous Mathilde moves to Morocco with Amine. He has inherited a piece of land from his father and the couple plan to create a farm on it, with orange trees, wine and cereals, and start a family.
Temporarily, the couple live with Amine's mother and siblings in the medina, the old town of Meknès. The city is divided into two parts at the time: the medina, with its maze of narrow streets, where the Moroccan community lives, and the modern Ville Nouvelle, where the French colonialists have their stylish homes.
Life on the farm also fails to live up to Mathilde's dreams. Amine tries hard to transform a barren piece of land outside Meknès into fertile soil. In her letters home to her sister Irène and her father Georges, however, Mathilde seeks to impress them both by portraying the life she leads as an exciting adventure.
The need to adapt
She finds it difficult to adapt to local customs and culture. As an immigrant French woman, she is not bound by the strict rules of Moroccan society – she drives a car, sends her daughter to a Christian school, moves freely through the city – but being married to a Moroccan, she is treated with disdain by French colonial society. At the same time, Amine, torn between different role expectations, turns increasingly into a tyrannical patriarch demanding observance of the laws and taboos of traditional Moroccan society. Mathilde soon realises that she is expected to live by a rigid moral code. "That's just the way it is here" is Amine's brusque response when she rails against injustices.
The couple encounter rejection from both the Moroccan community and French colonial society. Even when Mathilde tends to the sick in the poor local farming community and slowly gains their trust, it becomes clear that she will always remain an outsider. She and Amine do not belong anywhere. Their children also suffer humiliation and racism. Their daughter Aïcha is ostracised by her French classmates. Nevertheless, urged by Mathilde, she invites them to her birthday party, only for a humiliating scene to ensue when one of the girls demands to be taken home by the "chauffeur" (Amine) – and Amine makes no attempt to correct her mistake.
Politically, the post-war years in Morocco are marked by the fight for independence from France. There is violence from both sides, assaults on Protectorate Authority buildings and on French landowners' farms. Mathilde and Amine find themselves caught between the fronts. Moroccan nationalists are suspicious of Amine because he served in the enemy's army. When Aïcha asks her father whether they are with the good guys or the bad guys, he points to an orange tree onto which he had grafted a lemon branch for Aïcha: "We are like your tree, half lemon, half orange. We are not with either side!"
Polyphonic mosaic
The novel is a polyphonic mosaic of characters and their lives: in addition to the Christian, educated French woman Mathilde and her Moroccan husband Amine, there is his mother Mouilala, a traditional Muslim woman who attends to her sons' needs like a maidservant, Mourad, Amine's former comrade-in-arms, and the gynaecologist Dragan, a Hungarian Jew who ended up in Morocco after escaping from the Nazis.
Key characters include Selma, Mathilde's teenage sister-in-law, who defies convention and openly protests at her older brother's patriarchal violence, and Omar, who has always been overshadowed by his older brother Amine and becomes a radical nationalist in the wake of the independence movement. Slimani tells the story from each person's perspective, without judging or condemning.
Slimani herself was born in 1981 in Rabat, Morocco, and grew up in a well-to-do family where French was spoken. Her mother was a doctor, her father an economist, who served as the country's minister of economic affairs from 1977 to 1979. In 1999, Slimani moved to Paris to study at the renowned Sciences Po institute of political studies and has worked as a journalist for the weekly magazine "Jeune Afrique" since 2008. In 2016, she was awarded the Prix Goncourt for her novel "Chanson douce" (published as "Lullaby" in the UK and "The Perfect Nanny" in the United States). She turned down the post of minister of culture offered to her by President Emmanuel Macron in 2017 in order to continue working as a writer. In an interview on the publication of her book "In the country of others", she explains that she always has a sense of living in the country of others, whether she is in Morocco or in France.
This novel is the first part of a trilogy in which Slimani plans to retrace the history of Morocco from 1945 to 2015. And she will do so by drawing on her own family history. Mathilde and Amine are inspired by her maternal grandparents. In the second part of the trilogy, Slimani wants to tell her mother's story. 

Reference
Slimani, L., 2022: In the country of others. London, Penguin Books.
(Original title "Le pays des autres", published in 2020 by Gallimard, Paris).

Dagmar Wolf is D+C/E+Z's office manager.
euz.editor@dandc.eu