Covid-19
Malawi refuses expired vaccines
Malawi's health system is practically in a coma, with an inadequate supply of drugs, equipment and personnel. So offers of Covid-19 vaccine supplies came as a blessing: in late March, Malawi received more than 102,000 doses of the AstraZeneca vaccine made by the Serum Institute of India (SII).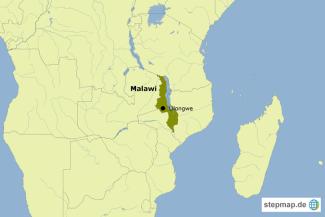 stepmap.de
The vaccine was part of a larger lot bought by the African Union from South Africa, which had stopped using the jab amid doubts over its effectiveness against a new Covid-19 variant in that country. But there was a catch: The vaccine was due to expire on April 13, only a few weeks later.
Malawi used whatever vaccine it could during the three-week window, and said it would destroy the remaining 16,000 doses. The government expressed doubts about the effectiveness of expired drugs and said that using expired vaccines could undermine public confidence in the vaccination campaign.
The World Health Organization (WHO) initially advised Malawi to hold on to the expired vaccines in case they can be used after all. Matshidiso Moeti , the WHO's Africa regional director, urged countries to "store the vaccines safely as we continue to study and try to get definitive advice on whether the vaccines can be used for longer," the BBC reported.
The Africa Centres for Disease Control and Prevention (CDC) agreed with the WHO. "My appeal to member states is: if we are doing our part to mobilise these vaccines, you do your part and use the vaccines," Africa CDC Director John Nkengasong told a news conference on 22 April. He added that the manufacturer claims "vaccines can still be used even after nine months".
Malawi disagreed and destroyed the expired vials. In his State of the Nation Address in mid-May, President Lazarus Chakwera said: "I have categorically refused to let our citizens be inoculated with expired vaccines. If it's not good enough for use in the northern hemisphere, then it's not good enough for use in the southern hemisphere."
Health Minister Dr. Charles Mwansambo elaborated: "Each vial clearly states the expiry date," he told the Voice of America, the US state broadcaster. Any doctor would not be forgiven if anything happened after he knowingly used a vial that has expired." He added: "If we store these expired vaccines that will be big blow to our vaccination drive. People will not come."
George Jobe, Executive Director of Malawi Health Equity Network (MHEN), agreed: "The WHO and the African Union should understand that Malawi must protect its people against health hazards. We cannot afford to use the drugs that are harmful. Using expired drugs is not an option even if Malawi has run out of drugs."
South Sudan also said it would discard up to 59,000 expired Covid-19 vaccine doses, citing similar arguments.
In view of the uproar, the WHO changed its advice in mid-May and said the expired drugs should be destroyed. "Any vaccine that has passed its expiry date, including [Astra Zeneca] Covishield, should not be administered," the WHO said on 17 May. "WHO recommends that these expired doses should be removed from the distribution chain and safely disposed."
Malawi, meanwhile, still suffers from shortages of medicines of all kinds and is looking for new vaccine  supplies. Its situation is dire, as more than half its 18.6 million people live in poverty and more than one-fifth live in extreme poverty – making disease control more difficult. "More avenues for securing additional vaccines are being explored," President Chakwera said in his State of the Nation Address.

Raphael Mweninguwe is a freelance journalist based in Malawi.
raphael.mweninguwe@hotmail.com