Water tenure
Fair access to water for all
Many people worldwide, particularly marginalised groups, do not have legally regulated access to water. The UN Food and Agriculture Organization (FAO) has initiated a global dialogue on water tenure to establish principles for responsible and sustainable water governance.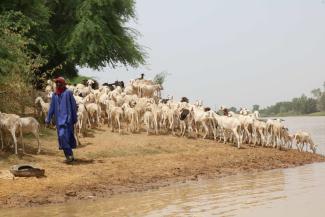 Lamine Samake/FAO
According to UN estimates, over 733 million people live in areas with at least high water stress. In these areas, freshwater withdrawals account for at least three quarters of the total renewable freshwater resources available.
Agriculture plays a central role. According to the UN, it is responsible for 72 % of water withdrawals worldwide. In many African and Asian countries, the percentage is significantly higher. In order to meet the demands of a growing world population, FAO estimates that agricultural production will have to increase by 50 % by 2050 compared to 2012. Better irrigation will be essential: to date, only about 20 % of cropland around the world is irrigated, yet it grows 40 % of food. If current trends continue, the global water demand from irrigated agriculture will increase by more than 30 % from 2012 to 2050, according to FAO calculations.
Uncertain legal status
In many places, smallholder farmers secure food supply. However, they often do not have access to irrigation or a vested right to water use. Their access is frequently based on customary law, which is not always recognised by the state. Customary laws govern access to natural resources on over half of the world's land. In sub-Saharan Africa, it's up to 60 %, the NGO Rights and Resources estimates.
Even within the state regulatory framework, there is potential for conflict. In addition to water legislation, other regulations often intervene in the use of water resources, like those from the energy and environmental sectors. In many places, however, these laws are poorly coordinated, which can cause friction. The same is true of the state and non-state institutions involved.
There are also deficits in water accounting, which is necessary to make sound decisions about sustainable allocation. Agricultural demand in particular is often difficult to accurately represent in water balances.
FAO addresses water tenure
Legally protected access to water is indispensable to the food security and livelihood of indigenous peoples, marginalised groups and smallholder farmers. For that reason, the FAO has taken up the issue of water tenure in a series of conferences, publications and case studies, particularly in the project "Knowing water better" (KnoWat).
However, water tenure was excluded from one of the most important international declarations on land tenure: in 2012, the UN Committee on World Food Security (CFS) adopted the "Voluntary Guidelines for the Responsible Governance of Tenure of Land, Forests and Fisheries (VGGT)". The guidelines strive to protect the tenure rights of all land users, whether based on formal laws and regulations or on customary laws or traditions. Water tenure was left out of the negotiations because there were concerns about addressing water and land tenure at the same time.
Global dialogue on water tenure
Based on the results of the KnoWat project and the work of civil-society organisations and researchers worldwide, the FAO has launched a multi-year project to continue its commitment. The "Global Dialogue on Water Tenure" will take place from 2022 to 2026. Its aim is to discuss principles of responsible governance of water tenure as well as guidelines to implement these principles at the national and local level. Participants include international and national government agencies as well as representatives of indigenous groups, civil society, academia and the private sector. Among them are Germany's Federal Ministry of Food and Agriculture (BMEL) and the German Institute of Development and Sustainability (IDOS).
The results of the dialogue should be adopted on a global level by a political body like the CFS. Similar to the guidelines on land tenure mentioned above, this could mark a significant step in international water law. Achieving this would be particularly important for areas where freshwater is becoming scarce or highly variable due to the climate crisis or population growth.
A successful implementation of the results would be an important step towards ensuring a more equitable distribution of natural resources. It would be a tangible contribution to implementing the human rights to food and water, as well as the 6th UN Sustainable Development Goal (SDG6), pertaining to "clean water and sanitation". It would especially benefit communities that so far lack a vested right to the vital resource of water.
References
FAO Committee on Agriculture, 2022: 28th session: Governance of tenure of water resources for food and agriculture:
https://www.fao.org/3/nj011en/nj011en.pdf
UN Global Dialogue on Water Tenure:
https://sdgs.un.org/partnerships/global-dialogue-water-tenure-0
Benjamin Kiersch is an environmental engineer. From 2019 to 2022, he directed the FAO project "Knowing water better – towards fairer and more sustainable access to natural resources", funded by Germany's Federal Ministry of Food and Agriculture.
benjamin@kiersch.com