Water supply
A catalyst for water transformation
The Urban Water Catalyst Initiative is an important step towards addressing the challenges of water provision. It emphasises willingness to reform, financial autonomy and the integration of technical and financial support for urban utilities.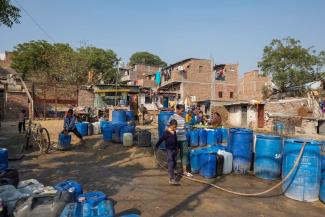 picture-alliance/Bildagentur-online/AGF-Hermes
One of the voluntary commitments that Germany's federal government, with support from KfW Development Bank and the German Agency for International Cooperation (GIZ), made together with the Dutch government at this year's UN Water Conference was the Urban Water Catalyst Initiative (UWCI). The partnership, initiated by Germany, is open to additional donors. In fact, according to Global Water Intelligence, the leading publisher of the international water industry, the initiative may be the most important contribution to the UN's Water Action Agenda.
The UWCI marks the first time a global instrument has been created that purposefully strengthens urban water utilities that possess the two most important conditions for reform: autonomy and a motivated, stable management that enjoys local political support.
Five elements increase the effectiveness of support for utilities, accompanying and complementing the bilateral programmes that will still be necessary for developing the general conditions:
Local willingness to reform: utilities supported by UWCI must demonstrate that their leadership and governing bodies back the company's reforms. They must also plan the strategic implementation of the reforms autonomously. Instead of adhering to constraints imposed by donors, the utility management itself should determine the path to the goal.
Competition and flexible assistance for results: funding will be provided in places where utilities can actively apply for it and be persuasive. This ensures that funding and technical support go to companies that actually want change. Flexibility provided by expert pools and small-scale financing should be tailored to meet utilities' needs.
Support for utilities instead of project-related resource allocation: the UWCI supports utilities independent of investment projects in places where it can provide the most leverage for increases in efficiency. The focus is not only on new infrastructure projects, but also on optimising the operation of existing facilities and connecting customers to existing networks, particularly in the early funding phases. Utilities must achieve cost coverage in order to gain independence from subsidies for operation. Doing so eases the burden on public budgets, which can then use the funds for other purposes. It also protects utilities from political interference and paves the way to creditworthiness.
Financial autonomy and local financing: experiences from Colombia, Tanzania and Kenya show that if water utilities manage to improve their cost coverage, they can also refinance with local development and commercial banks and on their own countries' capital markets. This is a sustainable approach because it eliminates currency risks and reduces countries' debts. Thereby, utilities can tap into long-term financing sources outside of official development assistance (ODA). When utilities stop receiving subsidies for operation, they can take their development into their own hands. Nevertheless, commercial financing is only one component. Investments in water infrastructure will rely on the public sector for the foreseeable future. Water is and will remain a social and political good.
Improved integration of technical and financial support: technical advice (like from utility partnerships or aid workers) and investment plans supported by development banks often do not sufficiently intersect. Different interests, processes and project cycles hamper effective coordination. In this context, the UWCI relies on tailored advice that is based on the independent expertise of experienced technicians and managers in the water industry. What's more, short- and long-term financing – ranging from grants, to loans, to guarantees to local banks – is provided from a single source and in a systematic way.
In close cooperation with German and Dutch partners, the UWCI will soon begin supporting the first utilities. 
Daniel Nordmann is policy advisor for GIZ and KfW for the Urban Water Catalyst Initiative.
daniel.nordmann@giz.de 
Dieter Rothenberger is head of the GIZ sector programme "International Water Policy – Innovations for Resilience".
dieter.rothenberger@giz.de 
Jörg Dux is head of the KfW team "Water and Waste Management in North Africa".
joerg.dux@kfw.de