Agenda 2030
New need for knowledge
The 2030 Agenda for Sustainable Development requires a reorientation of global development policies. Its principles seem simple and universal: the agenda applies to all countries, no one should be left behind, and everyone should cooperate. Nonetheless, they have wide-ranging consequences for the knowledge systems that development agencies rely upon.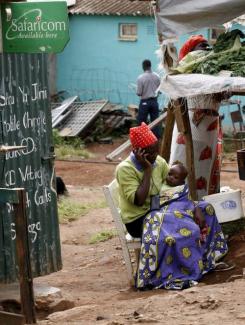 Wire/picture-alliance/dpa
Challenges are evident in three areas in particular.
First, the universal scope of the 2030 Agenda is quite demanding. Because of its complexity, ever more data and methodological innovations are needed, including for adopting new technologies and boosting the capacities for collecting and processing data as well as to adopt new technologies.
Second, implementing the agenda requires new partnerships for development. Apart from established donors and their academic partners, additional actors from civil society and the private sector must be involved. On all sides, new forms of cooperation will depend upon timely sharing of suitable strategies and approaches.
Third, the availability and usefulness of knowledge must increase. So far, a lot of available information has not met specific needs, or it is stored, but not used, in the databases of individual agencies. For usefulness to increase, knowledge gaps must be closed, with developmentally relevant information being generated in a timely fashion.

New data and methods
The 2030 Agenda was adopted in September 2015, and the reconfiguration of knowledge systems has lagged behind. This is a problem, because decisions are still based on only limited evidence.
The core challenge is the complexity of the Agenda's 17 Sustainable Development Goals (SDGs). The SDGs pertain to the social, economic and environmental dimensions of human development. Sustainability depends upon all three dimensions, so none of them may take precedence. A core principle is that no SDG must detract from the other SDGs. Accordingly, there is a need for new knowledge concerning how various development strategies interact. This is a task for evaluation – but certainly not an easy one.
There are more challenges. The principle of accountability means that we need to find out: who has contributed how much to which result and in what way? Causal relations must be established clearly.
In order for monitoring and evaluation (M&E) to drive evidence-based policymaking, knowledge gaps must be closed, and information must be made available at the local, regional and global levels. Accordingly, statistical capacities must be strengthened. Related programmes deserve international support, as was envisioned by the Paris21 Initiative. Large data sets from the World Bank, for instance, can serve to supplement national statistical data. The Bank's Demography and Health Surveys (DHS) or the Living Standards Measurement Surveys (LSMS) are examples. Moreover, various methodological innovations allow for the collection of reliable information at low costs in low-data environments. Examples include the Grameen Foundation's Progress out of Poverty Index (PPI) or the World Bank's Survey of Well-Being via Instant and Frequent Tracking (SWIFT).
International initiatives such as the International Aid Transparency Initiative (IATI) serve the interests of joint accountability, cooperation and planability. They should be used more extensively. What matters is free access to information. New institutions such as the Bill & Melinda Gates Foundation are playing leading roles. Among other things, they are making substantial investments in new knowledge systems.
M&E systems are increasingly relying on mobile technologies, social media and satellite data. So-called "machine learning" is especially innovative. This method predicts trends based upon the processing of large data sets. Data on cell-phone usage, for instance, can help to predict the spread of epidemics (such as Ebola).
New and larger data sets are not a panacea, however. Often, they only reflect major trends and probabilities. They rarely address causes. There is, however, enormous potential in using both big data (see D+C/E+Z e-Paper 2017/01) and machine learning for complex evaluations and assessing ever more empirical data. The potential has only been tapped to a small extent.
New partnerships are emerging in the context of the 2030 Agenda, and they will have to be up to the task.  M&E is rather strongly institutionalised among governmental and non-governmental development agencies, but the contributions of private-sector businesses have hardly been assessed in any other perspective than a rather narrow business one. It is necessary to move beyond M&E systems that only meet the needs of specific actors, in particular the donors.
M&E insights must be timely too. Procedural and technical innovations are needed to disseminate useful knowledge quickly. In this area, new actors such as charities and private business – such as African telecommunication companies – are the leaders. The product-related information they gather serves as a basis for company decisions, but it can also help long-established donor agencies to provide services to the poorer members of society.
The success of such new collaborations often depends upon how well the parties involved understand one another. Established donors must accept that data is in high demand, but not necessarily a free commodity. Private companies, in turn, must realise that shared developmental successes will ultimately benefit everyone, even if profits are only made in the middle or long term.

Increasing usefulness
Developmentally relevant knowledge is often not freely available. Or it turns out to be insufficiently refined, or it does not relate to particular questions. Because of its universal character, however, the 2030 Agenda requires useful information at various levels. M&E must therefore no longer remain the exclusive domain of the donors. M&E must be done with the involvement of local partners.
Meta-analyses and synthesis studies increase the relevance of knowledge and contribute meaningfully to learning at the regional and global level. Platforms such as the International Initiative for Impact Evaluation (3ie) are creating global knowledge maps and identifying knowledge gaps.
Various players in policymaking, economy and society can promote an evaluation-oriented mindset. More than ever, the M&E community is called upon to provide knowledge and information in a timely and useful manner. Doing so will require innovative ways of communication. Success depends upon M&E being mainstreamed in all developmental actions.  

Summary
In the history of international cooperation, the momentum for evidence-based decision-making has rarely been so strong as it is today. The review mechanism of the 2030 Agenda reflects this trend. To date, however, the development of M&E systems has lagged behind the Agenda's implementation.  This dynamic must change. On-going decision-making must increasingly be based upon timely and relevant information. 
Policymaking and implementation require strategically relevant evaluations, not least to assess complex issues in light of empirical evidence. M&E systems must be technologically and methodologically suited to process new and additional data sets. Moreover, they must facilitate the involvement of new and diverse actors, both in collecting data and using knowledge.
Public funding is warranted for initiatives that promote interconnected knowledge and information systems as a basis for policymaking. Moreover, knowledge platforms deserve support from governments, private-sector businesses and society in general. All parties must spread relevant information. Data and information should be processed in a way that expands knowledge regarding to various topics and wide-ranging issues. Ultimately, all parties must accept a new collaborative culture of learning. The goal is to improve the useful, timely and needs-based provision of information.

Martin Noltze is senior evaluator at the Competence Centre for Evaluation Methodology of the German Institute for Development Evaluation (DEval).
martin.noltze@deval.org

Sven Harten heads the Competence Centre for Evaluation Methodology and is acting director of DEval.
sven.harten@deval.org