Migration
Adapting to fast-changing German society in the 1960s
Nassir Djafari's novel "Mahtab" tells the story of a migrant mother from Iran in Frankfurt in the late 1960s. One of the book's strong points is that it describes not only how the protagonist adapts to an unfamiliar culture, but also gives many little hints regarding how Frankfurt itself was changing in those years. This is the fifth item in this year's culture special with reviews of artists' works with developmental relevance.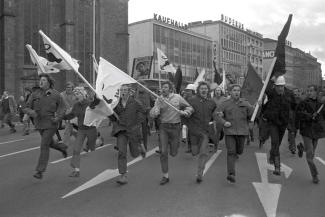 dpa/picture-alliance/dpa
Mahtab, the main character, is a woman in her late 30s who works as a nurse in a Frankfurt hospital. She has been living in Germany with her family for about a decade. Her husband, Amin, runs a small store with great dreams but moderate success. Their youngest son was born in Frankfurt; their daughter and first son were born in Iran.
Mahtab is focused on her family. When her shift is over, she hurries home to prepare dinner for the kids. She does not socialise much with female colleagues, who seem to be obsessed with their looks and whether they are attractive to men.
The Iranian mother pays far less attention to the outside world than her husband and children do. Her husband listens to shortwave radio and always knows the latest news about the atrocities of the Shah dictatorship back home. He also follows what is going on in other countries of the so called Third World. On the other hand, he is constantly trying to grasp new business opportunities – but not with much luck. Mahtab finds his tendency to flirt with German women deeply irritating. She is equally bewildered by the attention a senior doctor pays her at the hospital.
The children go to German schools and accept their peers' views and ideas. Azadeh, the 21-year-old daughter, in particular, is increasingly independent-minded and expects much more personal freedom than seems appropriate to Mahtab. The parents want all three to get a good education and have a great future.
In the first of 27 chapters, Mahtab and Amin are stuck in a traffic jam which is caused by young students protesting against the Vietnam war. Mahtab is surprised to see Azadeh in the crowd. It turns out that the young woman has a boyfriend, so Mahtab does not permit her to go out anymore. Nonetheless, she must discover that she has become unable to control her daughter's life.
1960s Frankfurt
While Mahtab disapproves of her daughter's miniskirt, she is ignorant of many German mothers sharing those feelings. In an interesting twist, Djafari describes not only how his main character changes, but incidentally also gives account of the massive changes Frankfurt was undergoing.
The underground metro system was being built, so the downtown area was a permanent construction site. Consumerism had set in, and people were eagerly buying washing machines and TV sets. Birth-­control pills had become available, and a side effect was that extra-marital affairs were no longer the scandal they had been in the past. Young people were rebellious, keenly aware of what was going on in Vietnam and other countries formerly or still under colonial rule. They objected to western governments' involvement in the crises of far-away nations – and likened such involvement to Germany's Nazi past. Of course, immigrants were changing the city too – it had started to become Germany's hub of multiculturalism.
Mahtab takes everything for granted. She is struggling to cope with many challenges. Annoyed because her husband seems to have an affair with an employee, Mahtab decides to move out and take along her sons. She finds refuge in the home of a former patient, an elderly lady. Azadeh takes advantage of the chaotic situation and starts to share a room with her boyfriend. Her mother thinks she is still at home, while her father believes she is with his wife. The family's reunification starts when the parents begin to look for their daughter.
In the meantime, Mahtab's elderly friend has helped the nurse to become more self-confident and independent. Mahtab now has a bank account of her own, for example, and she has started to take swimming lessons. When she first accompanied her friend to the public swimming pool, she felt embarrassingly naked in her new swimsuit. The protagonist increasingly makes Frankfurt her home, and no longer feels bound by her childhood's more restrictive gender roles.
Nassir Djafari is an immigrant himself. His family moved from Iran to Germany when he was four. He used to work for KfW Development Bank as an economist and has written several non-fiction contributions for D+C/E+Z. Mahtab is his second novel. His first one was about a father-son relationship in crisis.
Book
Djafari, N., 2022: Mahtab. Bremen, Sujet Verlag (in German only). 
Hans Dembowski is editor in chief of D+C Development and Cooperation / E+Z Entwicklung und Zusammenarbeit.
euz.editor@dandc.eu