WHO
WHO deserves more independence and more money
Since the start of the Covid-19 pandemic, the World Health Organization (WHO) has been in the public eye as never before. So far, the results of its ongoing crisis management are mixed. Its multilateral mission is constantly being hampered by national interests. The WHO needs greater independence in terms of reliable financing and well-defined authority.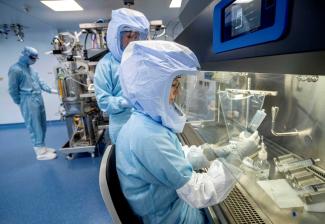 picture alliance / ASSOCIATED PRESS / Michael Probst
When the pandemic began in 2020, the WHO was accused of reacting too slowly. Critics stated that it waited too long to declare a public health emergency and recommend the wearing of masks. Its constitution and the International Health Regulations (IHR) require the WHO to fight pandemics. The IHR are a legally binding WHO agreement to prevent and combat the spread of diseases across national borders.
Independent experts have indeed determined in retrospect that the WHO should have declared a public health emergency not on 30 January 2020, but a week earlier. The delay was likely of a political nature. Evidence was mounting that the virus spreads easily between people even if they are not in close contact, but China's leaders continued to deny it. WHO Director-General Tedros Ghebreyesus thus felt the need to invest in a "charm offensive". Visiting Beijing on short notice, he explicitly praised the crisis management of this powerful member state. He then got the Chinese government's permission to carry out an initial WHO mission in the country.
Loss of the largest donor
Critics saw this move as an unacceptable politicisation of the WHO leadership. Donald Trump, then the US president, used the tensions to advance his "America first" policy. He announced the withdrawal of the USA from the WHO, blocking financial commitments that the US had already made. He had withdrawn from other multilateral institutions previously. The WHO lost its most important donor in the middle of the world's worst public health crisis since the Spanish flu after World War I.
Whether a recommendation to wear medical masks is needed, essentially depends on how easily the virus spreads through the air. The WHO hesitated for several weeks. Apart from inconclusive data, a likely reason was panic buying in affluent countries would restrict the supply of personal protective equipment to medical staff, and that would especially affect poorer countries, where shortages were already evident. This concern was sensible, even though mask wearing was ultimately found to be scientifically correct and essential to pandemic containment. Things were similar in the second year of the pandemic when the big issue was equitable access to Covid-19 vaccines and treatments.
The WHO's achievements
In spite of its limited resources, the WHO actually did remarkable work, serving its normative function early on. In the initial weeks, it informed the public through regular press conferences. In six world languages, it offered free online lessons on Covid-19 for health-care workers. Its science division was processing the latest insights. The WHO also put together a model for the targeted and coordinated research of SARS-CoV-2. What's more, regular reports issued warnings about the increased risks faced by vulnerable groups, such as refugees, prisoners and staff in certain low-wage sectors with precarious working conditions.
Early on, the WHO insisted on transparent cooperation in regard to the development and production of vaccines, medical technology and equipment. In April 2020, it issued a joint statement with the World Trade Organization regarding this matter. However, this episode showed how limited the WHO's power is in regard to enforcing its norms.
In 2021, over 100 countries supported a waiver of intellectual-property rules for Covid-19-related innovations (see Max Klein and Jörg Schaaber on www.dandc.eu). The result is sobering. Instead of an agreement to rapidly waive patents, only a weak compromise was reached. At its core, it merely eases export restrictions and is limited exclusively to vaccines. Negotiations regarding medication, diagnostic tools and other necessary medical technology are expected to last at least another six months.
Many initiatives – limited success
Intellectual property is formally beyond the WHO's jurisdiction. However, the agency's enforcement powers also proved limited in regard to other things. It started many initiatives and pursued parallel approaches in order, for instance, to provide rapid and equitable access to medical technologies. Politics often hampered implementation however.
 As early as May 2020, the new COVID-19 Technology Access Pool (C-TAP) was launched. Costa Rica had made this proposal with an eye to coordinate research on Covid-19. Scientific insights and resulting products were supposed to be accessible to all, so the C-TAP would facilitate the voluntary transfer of knowledge. Two years later, the results are disappointing. Only two government-run institutions from Spain and the US have shared licenses. In terms of implementation in summer 2022, the license from the Spanish institute for the production of a Covid-19 antigen test by a South African firm has made the most progress. This is too little, too late – even though it does amount to small steps towards equity and accessibility.
The "mRNA Technology Transfer Hub" has the potential to become more relevant in the medium and long term. The WHO is creating it with support from South African biotech companies and universities. The idea is to give manufacturers in the global south access to this advanced technology without depending on corporations such as Moderna, Pfizer and BioNTech. After all, mRNA technology could prove key in the development of vaccines for HIV, tuberculosis, malaria and various neglected infectious diseases. Efforts to create vaccines against these diseases have been largely unsuccessful so far, but mRNA technology might make a difference. By promoting this cause, the WHO could indeed do greater justice to its mandate "Health for All" and its mandate as the representative of all people than it can in various public-private partnerships (PPPs).
For over 20 years, many actors in global health have joined forces in PPPs, often outside the WHO. They are challenging the WHO's leadership in important health issues. The problem is that businesses with influence in such PPPs are maximising profits, not striving to improve public services.
In future, the WHO will have to choose. It can either support all initiatives, including PPPs, or get serious in a political sense about pursuing the goal of health equity. Recent decisions taken by the World Health Assembly (WHA) in Geneva in May offer a glimmer of hope. The WHO will get more independent funding, and the director-general was re-elected for another term. Whether the WHO will become able to make its normative goals come true, remains to be seen.

Andreas Wulf is the Berlin representative of medico international, a civil-society organisation.
wulf@medico.de
Anton Sundberg is a student assistant at medico international.
Literatur
Clark, H., Sirleaf, E. J., 2022: Transforming or tinkering? Inaction lays the groundwork for another pandemic.
https://theindependentpanel.org/wp-content/uploads/2022/05/Transforming-or-tinkering_Report_Final.pdf
Fidler, D. P., 2020: The World Health Organization and pandemic politics: The good, the bad, and an ugly future for global health.
https://www.thinkglobalhealth.org/article/world-health-organization-and-pandemic-politics
Dentico, N., Van de Pas, R., Patnaik, P., 2021: The politics of a WHO pandemic treaty in a disenchanted world: G2H2 report. Geneva Global Health Hub.
https://g2h2.org/wp-content/uploads/2021/11/The-Politics-of-a-WHO-Pandemic-Treaty-final.pdf
Health, T. L. G., 2022: The future of the International Health Regulations. The Lancet Global Health, 10(7), e927.
https://doi.org/10.1016/S2214-109X(22)00254-6
Independent Oversight Advisory Committee (Hrsg.), 2021: Report of the Independent Oversight and Advisory Committee for the WHO Health Emergencies Programme. World Health Organization. https://www.who.int/publications/m/item/a74-16-independent-oversight-and-advisory-committee-for-the-who-health-emergencies-programme
Independent Panel for Pandemic Preparedness and Response (Hrsg.) 2021: COVID-19: make it the last pandemic. World Health Organization.
https://theindependentpanel.org/wp-content/uploads/2021/05/COVID-19-Make-it-the-Last-Pandemic_final.pdf
Maxmen, A., 2021: Why did the world's pandemic warning system fail when COVID hit? Nature, 589(7843), 499–500.
https://doi.org/10.1038/d41586-021-00162-4
Navarro, V., 2004: The world health situation. International journal of health services : planning, administration, evaluation, 34(1), 1–10.
https://doi.org/10.2190/4HMT-KDKH-18E7-2XBE
People's Health Movement, ALAMES, Medact, medico international, Third World Network, Health Poverty Action, Viva Salud, SAMA, 2022: Global Health Watch 6 – In the shadow of the pandemic. ZED BOOKS LTD.
Peters, M. A., Hollings, S., Green, B., Ogunniran, M. O., 2022: The WHO, the global governance of health and pandemic politics. Educational Philosophy and Theory, 54(6), 707–716.
https://doi.org/10.1080/00131857.2020.1806187
Singh, S., Bartos, M., Abdalla, S., Legido-Quigley, H., Nordström, A., Sirleaf, E. J., Clark, H., 2021: Resetting international systems for pandemic preparedness and response. BMJ (Clinical research ed.), 375, e067518.
https://doi.org/10.1136/bmj-2021-067518
Sridhar, D., King, L., 2020: US decision to pull out of World Health Organization. BMJ (Clinical research ed.), 370, m2943.
https://doi.org/10.1136/bmj.m2943
Voss, M., Wenham, C., Eccleston-Turner, M., Sangameshwaran, R., Detering, B., 2022: A new treaty on pandemics: Key to (re)build trust in international cooperation? https://www.klimawandel-gesundheit.de/wp-content/uploads/2022/03/Policy-Brief_Pandemic-Treaty_short.pdf
World Health Organization, 2020: Basic documents: Constitution of the World Health Organization. Genf.
https://apps.who.int/gb/bd/pdf_files/BD_49th-en.pdf
World Health Organization, 2020: Joint statement by WTO Director-General Roberto Azevêdo and WHO Director-General Tedros Adhanom Ghebreyesus [20 April 2020].
https://www.who.xn--int/news/item/20-04-2020-joint-statement-by-wto-director-general-roberto-azevdo-and-who-director-general-tedros-adhanom-ghebreyesus-8ql
World Health Organization, 2020: Online training as a weapon to fight the new coronavirus: Departmental news [7 February 2020].
https://www.who.int/news/item/07-02-2020-online-training-as-a-weapon-to-fight-the-new-coronavirus
World Health Organization, 2020: Pass the message: Five steps to kicking out coronavirus: WHO, FIFA launch joint campaign to equip football community to tackle COVID-19 [23 March 2020]. https://www.who.int/news/item/23-03-2020-pass-the-message-five-steps-to-kicking-out-coronavirus
World Health Organization, 2020: Shortage of personal protective equipment endangering health workers worldwide [3 March 2020].
https://www.who.int/news/item/03-03-2020-shortage-of-personal-protective-equipment-endangering-health-workers-worldwide
World Health Organization, 2020: Statement on the second meeting of the International Health Regulations (2005) Emergency Committee regarding the outbreak of novel coronavirus (2019-nCoV): 30 January 2020.
https://www.who.int/news/item/30-01-2020-statement-on-the-second-meeting-of-the-international-health-regulations-(2005)-emergency-committee-regarding-the-outbreak-of-novel-coronavirus-(2019-ncov)
World Health Organization, 2020: WHO and Costa Rica preview technology pooling initiative to ensure access to COVID-19 health products for all: News release [15 May 2020].
https://www.who.int/news/item/15-05-2020-who-and-costa-rica-preview-technology-pooling-initiative-to-ensure-access-to-covid-19-health-products-for-all
World Health Organization, 2020: WHO to accelerate research and innovation for new coronavirus: News release [6 February 2020].
World Health Organization, 2020: World experts and funders set priorities for COVID-19 research: News release [12 February 2020].
https://www.who.int/news/item/12-02-2020-world-experts-and-funders-set-priorities-for-covid-19-research