Role models
A powerful role model for African girls
Ngozi Okonjo-Iweala is the first woman and the first African to lead the World Trade Organization (WTO). She has broken several glass ceilings in her career.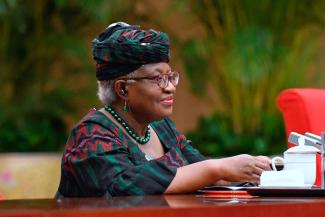 picture-alliance/ASSOCIATED PRESS/Wang Zhao
Okonjo-Iweala is a brave amazon on the global stage and an ambassador for African women. She serves as an important role model. From 2003 to 2006, she was the first female finance minister of Nigeria and then became the first female foreign minister, but only served for a short time. In 2011, a different president reappointed her as finance minister, and she stayed in that position until 2015.
One of her great successes as finance minister was sovereign-debt relief worth $ 30 billion. She led the Nigerian team in the restructuring negotiations with the Paris Club of established creditor nations. Moreover, she promoted more transparency in public finance. As board member of various institutions, she has also made a difference. They include the vaccine alliance GAVI and the African Risk Capacity, which is spearheading climate insurance.
Her career includes long stints at the World Bank, where she rose through the ranks to the top-level management, serving as managing director for operations. Her candidacy – as the first woman and the first African – to become the bank's president, however, failed in 2012. Nigeria's government had proposed her.
In 2021, Okonjo-Iweala became director general of the WTO, once more proposed by the Nigerian government. Her compatriots did not find her success surprising. They know her to be a committed, determined and hard-working person. She is considered to be one of the world's most powerful women. We Nigerians also see her as an ambassador of our nation.
Unequal opportunities
In patriarchal African societies, women and girls generally do not have the same opportunities as boys and men. Early marriages, domestic chores and traditional notions of women as men's property still matter very much. However, things have begun to change.
In this context, Okonjo-Iweala's rise to leading positions in the national cabinet under President Olusegun Obasanjo signalled a new wave of women's empowerment. Indeed, she is not the only prominent role model young girls can look up to. There are several others, including:
Amina Mohammed, the former Nigerian minister of the environment who now serves as deputy secretary-general of the UN. Her role is crucial for achieving the Sustainable Development Goals. In terms of international impacts, she comes close to Okonjo-Iweala.
Obiageli Ezekwesili is another former minister (for education and for solid minerals). She is now a civil-society activist.
Ibukun Awosika is a businesswoman and philanthropist. She chairs the board of First Bank, a multinational corporation with branch offices across West Africa.
Folorunso Alakija is a billionaire and philanthropist. She is the executive vice-chairperson of Famfa Oil and leads the charitable Rose of Sharon Foundation which provides support to widows and orphans.
Chimamanda Ngozi Adichie is an award-winning novelist. Her book "Americanah" became a global bestseller. Her Ted speech on feminism made waves internationally.
Okonjo-Iweala's public profile is much appreciated. Oyinkan Olasanoye, a female trade-union leader, says: "She serves as a role model to the extent that today everybody, not only a girl-child looks up to her when considering appropriate behaviour and what a person can achieve in life." The labour activist adds: "Young African girls can have hope that the world which they are growing into embraces women as leaders."
Sixteen-year-old secondary-school student Praise Murphy agrees. "When I was in my primary and junior classes, I used to see her on TV." She points out that she goes to an all-girls school and that all of her classmates feel inspired by Okonjo-Iweala's achievements.
Education matters
More generally speaking, Okonjo-Iweala's career proves that education makes a difference. It motivates Nigerian parents to invest in their children's education, whether they are girls or boys. Of course, the WTO chief provides a strong example of what an African woman can achieve to people in the continent's other countries too.
Okonjo-Iweala was born to a noble family in the Delta region in 1954. She thus had a privileged childhood, growing up and going to school in Nigeria. She later obtained her academic degrees from elite universities in the USA, including a PhD in development economics from the Massachusetts Institute of Technology. She is passionate about fighting poverty and eradicating corruption.
Assuming office at the helm of the WTO, she stated: "A strong WTO is vital if we are to recover fully and rapidly from the devastation wrought by the Covid-19 pandemic. I look forward to working with members to shape and implement the policy responses we need to get the global economy going again." She acknowledged that the organisation faces challenges, but expressed the determination to make it "stronger, more agile and better adapted to the realities of today".
The full truth is that the WTO had been losing clout for years before she became its leader. With her at the helm, it managed to reach some new, though minor agreements. They showed that member governments want it to keep going.
Bimbola Oyesola is a Lagos-based journalist.
oritokeoyee@gmail.com