Palm oil production
Poor working conditions
Small-scale farmers have been cultivating palm oil in southern Ghana for thousands of years. Unfortunately, the growers' processing methods typically have remained as crude as ever. This causes needless hardship to the workers – mainly women—who produce the oil.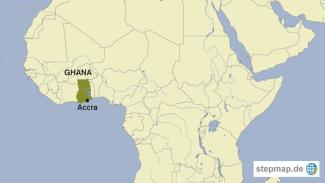 stepmap.de
South Ghana's tropical climate is good for growing palm trees. The palm fruit yields two types of products: oil from the outer part of the fruit, and kernel oil from the seed in the middle. Once the kernel has been separated from the outer part, and once the oil has been extracted from the kernel, the rest of the kernel is turned into "palm kernel cake", which is used as cattle feed or fuel.
In contrast to south Ghana, northern Ghana's hot, dry and rain-dependent climate is more suitable for raising livestock and crops such as maize and rice. Farmers in the north have suffered mightily from climate change, which has caused alternate flooding and drought. That has forced many people from the north, especially women, to seek jobs in southern Ghana.
About 70 of those women came to Koforidua, a small city in south-eastern Ghana. One of them is Mary Amuna, a 42-year-old mother of three from Bongo District in north-eastern Ghana. She moved south 15 years ago, hoping to earn money to keep her children in school. "I have to support my daughter to finish nursing college, and sometimes my husband too," she says.
At the work site, Amuna is part of a group of about 15 women. They process palm fruit, extracting the kernels and heating them over open fires. The women feed the fires with dry sticks, old truck tires and various plastics. They work in open, uncovered areas, often under a baking sun or heavy rain. They have no protective gear and are forced to inhale the acrid smoke from the fires.
Afua Mamprusi, a leader of one of the groups, says the heat and smoke cause her dizziness, chest pains, coughs and body weakness. There is no medical care on site, nor any sanitary facilities such as toilets, wash-basins or showers. There are no covered areas set aside for resting, cooking or eating. "This work is very difficult but this is our only source of livelihood," says Gifty Alotimi Agoyiba, who has been working in palm kernel processing for 30 years.
The Coronavirus pandemic has made matters worse, reducing demand for the product and causing some workers to lose their jobs. "Some buyers buy on credit and don't pay," Agoyiba says. "Some growers even run away with our money."
Sadly, growers have not changed their production methods over the decades. To improve the situation, Plan International Ghana, a non-governmental organisation, is trying to introduce sustainability standards into the industry, including improved working conditions. At the same time, it aims to train some of the workers for work in other trades, to expand their job options.
The palm-oil workers are not necessarily looking for different jobs. Mainly they want better sanitation in their current jobs, and are looking to local authorities and NGOs to support that effort. "We want a conducive environment and at least a toilet so we can feel at ease when working," says Mary Amina. "It is our second home here, so we should feel at home."

Dasmani Laary is a journalist in Ghana.
laarygna@gmail.com