Fuel prices
Strained relations
Petrol smuggling has had a negative impact on Benin's relations with its giant neighbour Nigeria. The border between these ECOWAS members has been closed for months.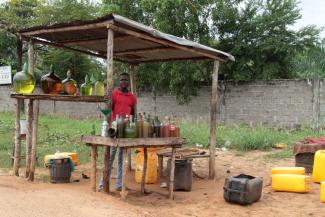 Catherine Leblanc/Godong/Lineair
In August 2019, Nigeria closed the land border. Nigeria's federal government stated it had to respond to the smuggling of petrol, small arms and imported food items (rice from Asia). It accused authorities in Benin of collusion with the criminals. Nigerian business leaders including Aliko Dangote, the prominent billionaire, have endorsed the stance of their government. Nigerian security forces even staged several incursions into Benin's territory.
Petrol smuggling has a long history, and it is continuing at a significantly reduced scale. To make the 700 kilometer border less porous, Nigeria has deployed additional patrol troops. Moreover, gas stations close to the border have been closed. Security has been tightened, moreover, to reduce the amount of petrol stolen from the storage facilities of the NNPC (Nigerian National Petroleum Corporation).
Vodounou is an energetic 30-years old young man whose family's livelihood depends on petrol smuggling. He seldom spends an entire night at home with his wife and kids. He sneaks through the bush on his moped and illegally crosses over into Nigeria, where he fills jerry cans with fuel. He then returns home the same night. In the daytime, his wife Sé sells the fuel to moped riders and car drivers on the roadside of the Cotonou-Porot-Novo expressway.
Vodounou says that his illegal business has become more difficult. Petrol is no longer easily available on the other side of the border. He used to be able to smuggle 400 litres in a single shuttle. Now he feels lucky if he gets 100 litres.
People say that smuggling is controlled by powerful Mafia organisations with links to influential politicians and bureaucrats. In the past, officialdom tended to simply look away, and in Benin, that is mostly still the case.
The background is that Nigeria is an oil-producing country, and the federal government subsidises fuel. This is the most important social benefit it provides to its people. At official gas stations in Nigeria, petrol thus only costs about half of what customers pay in other West African countries. The price difference means people in Benin prefer smuggled fuel even though it is often of lower quality due to adulteration.
According to the NNPC, smuggling cost the government about a daily 2 billion Naira (about $ 5 million) before the border closure. As smuggling has since become harder, the price of contraband fuel has spiked in Benin. A litre now costs only one percent less than petrol sold by officially registered filling stations.
The relations between the two countries have deteriorated significantly. Though Aurélien Agbénonci, Benin's minister of foreign affairs, insists that communication is good, influential persons in Nigeria are expressing harsh criticism of Benin's President Patrice Talon. It is no secret that Nigeria's government similarly thinks that Benin has willingly watched its own people benefiting from the neighbouring country's subsidies, well aware of those subsidies being meant to ensure social peace and political stability in Nigeria.
The closed border, moreover, does not only hurt the smuggling networks. Legitimate trade is suffering too. People who commute between the two countries are affected badly.
This scenario cannot go on forever. Both countries belong to the Economic Community of West African States (ECOWAS). To show solidarity, a crisis committee has been set up. Several meetings have been held, but so far, they have not managed to broker a better understanding between Benin and Nigeria. ECOWAS is supposed to promote exchanges between member countries to mutual benefit. Inner-African trade, moreover, should be a driver of development. On the other hand, many African businesses remain informal so far, and that means that laws are hard to enforce. That is true on both sides of the border.
When these lines were written in April, Covid-19 was the overarching issue that occupied policymakers' minds. Other issues were less pressing. Nonetheless, people in Benin as well as Nigeria wonder when the border will be opened again and what rules will then be enforced.

Karim Okanla is a media scholar and a freelance author.
karimokanla@yahoo.com