Social media
Hundreds of thousands of online trolls support Duterte
An old political saying in the Philippines holds that, to win a national election, a candidate needs "3Gs": guns, goons and gold. A new letter had to be added recently: a "T" for trolls.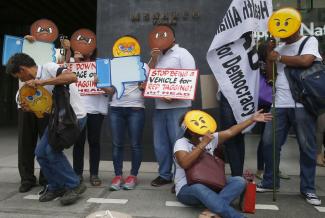 picture-alliance/AP Photo/Bullit Marquez
Five years ago, tens of thousands of Facebook trolls helped Rodrigo Duterte win the presidential election with 39 % of the vote (see my essay on our D+C/E+Z platform). In spite of his bloody track record, their online propaganda cast the right-wing populist in the role of the country's saviour. As mayor of Davao, he had been known for extrajudicial killings.
The trolls were effective for two reasons:
Nearly 80 % of 110 million people in the Philippines use Facebook. It has become part of daily life.
Before the election, Facebook gave people free internet access on mobile devices as long as they stayed on Facebook.
This gift turned out to be poisoned. Disinformation spread by trolls has become all too common. Duterte has appointed an "influencer" with 4 million Facebook followers to several lucrative jobs. Her basic competence is summed up in her nickname: "Queen of Fake News".
Hundreds of thousands of Duterte trolls now rule Facebook, calling themselves "Duterte Diehard Supporters", a way of appropriating and neutralising the original meaning of DDS – Davao Death Squads, the murder groups associated with Duterte.
They make life hard for outspoken critics of the government. A stream of abuse flows through Facebook, Twitter and YouTube. "Red tagging", for example, means that opposition politicians, human-rights activists, lawyers or journalists are denounced as communists. Physical violence may easily follow. Many Duterte critics have been harassed – by security forces as well as civilians. Some have even been killed.
The trolls mobilise others in within minutes. They widely share posts to make attacks go viral. Their continuous mocking of mainstream media undermines faith in the press. At the same time, they promote fabricated stories and push items invented by government agencies.
In 2016, Duterte's digital disinformation came as a surprise. He was 71 years old, and there was reason to doubt he even knew what Facebook was.
He most likely had expert advice. Alexander Nix of Cambridge Analytica, the company that became infamous for digital manipulation, met three persons in Manila in 2015: one later became Duterte's social-media director, another his campaign spokesman and the third his administration's information undersecretary.
According to Christopher Wylie, the whistleblower from Cambridge Analytica, the company tested strategies for spreading propaganda and manipulating voters in the Philippines. Later in 2016, it used those strategies in Britain in support of Brexit and in the USA in support of Donald Trump.
Heavy blood toll
Filipinos have paid a huge price. According to Human Rights Watch, some 12,000 people have died in Duterte's so called "war on drugs". Others reckon that up to 30,000 were killed. The International Criminal Court has launched investigations. Duterte is accused of crimes against humanity.
Propaganda and disinformation have existed for generations, but social media now make it easy and cheap to organise, coordinate and execute what analysts call "influence operations." Social-media platforms tend to tolerate trolling because how much money they make depends on how many users they have and how long they stay on the platform. Rage and anger keep people glued to their screens. As the author Cory Doctorow has stated, "Facebook is optimised for engagement, not happiness."
Online disinformation is an international challenge. The most recent Facebook whistleblower in the USA, Frances Haugen, says that action must be taken to rein in disinformation on social media or otherwise the riot in the US Capitol on 6 January 2021 or genocidal action in Myanmar and Ethiopia will only prove to be the "opening chapters" of worse things to come.
In the Philippines, Facebook has promised to shore up its act. It has revealed that Cambridge Analytica stole the data of 1.17 million Filipino users. It also closed down some fake accounts and admitted that the Filipino military ran disinformation pages. The depressing truth, however, is that the DDS trolls are as active as ever. Harassment and intimidation continue.

Alan C. Robles is a freelance journalist based in Manila.
Twitter: https://twitter.com/hotmanila