Sports
"Disabled sports are indispensable"
Many people with disabilities are active in sports. Friedhelm Julius Beucher, president of the German Disabled Sports Association, spoke with D+C/E+Z about why that is important for society as a whole and how his association cooperates with other countries.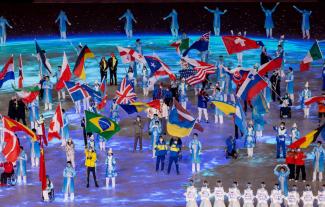 picture-alliance/dpa/dpa-Zentralbild/Jens Büttner
All over the world, sports bring people together and keep them fit. What importance do they have for people with disabilities?
Disabled sports are indispensable. They help maintain individual health even more than sports for people without disabilities. People with disabilities who do sports not only feel better and are more mobile, they also stay fit longer. According to a report by the German federal government, however, 55 % of people with disabilities in Germany do not play sports. That is an alarming figure and a major challenge for society as a whole – including for health insurance providers. We must therefore improve the offerings. The problem is that over 90 % of sports fields and gymnasiums in Germany are not barrier-free. For example, stairs often prevent wheelchair users from entering. If they do get into the gym, they frequently can't use the bathrooms. People who are blind or visually impaired often have no possibility at all of finding their way around.
How can that be improved?
Construction measures should not only be announced, but they actually have to be carried out. The good news is that newly constructed buildings are accessible. Nevertheless, most gyms are owned by municipalities, which lack money. While there is awareness of the needs of people with disabilities, improvements are implemented too slowly in Germany. We are talking, after all, about human rights: people with disabilities have a right to participate.
How are disabled sports organised in Germany?
There are over 6400 disabled sports clubs, and also thousands of clubs that, in addition to sports for people without disabilities, also offer disabled sports. However, there are still too few of them. Many sports can be played jointly by people with and without disabilities, like wheelchair basketball. We are striving to found fewer disabled sports clubs and instead facilitate participation in sports clubs for people without disabilities. In Germany, there are 17 state associations for disabled sports clubs and two professional associations for wheelchair athletes and deaf athletes. As the German Disabled Sports Association (DBS), we are the national umbrella organisation and are responsible in particular for elite sports.
Your association has a good 500,000 members. Why are you so popular?
When I took over the presidency in 2009, we had about 240,000 members. Since then we have improved our visibility and our offerings. That is the result of the hard work of many people and the successful efforts of thousands of local clubs. We used to have even more members, but over 100,000 people have left the clubs since the Covid-19 pandemic, because during these times almost no sporting activities took place. Many athletes with disabilities are also especially cautious during the pandemic, because they belong to high-risk groups, for instance because of breathing difficulties.
How are disabled sports financed in Germany?
Amateur sports live off club membership dues, corporate sponsorships and donations. Financial support also comes from the federal states, which are responsible for amateur sports. Professional sports, in other words the German Paralympic team, are marketed by an agency that obtains a considerable amount of sponsorship money. But for the most part, competitive sports are financed by federal tax revenue.
Which sports are the most popular?
Para track and field and wheelchair basketball are favourites in both amateur and competitive sports. Para cycling is also becoming more and more popular. There are a lot of variations. Sometimes the bicycle is operated with a hand crank while lying down.
To what extent does Germany support disabled sports abroad?
Germany's Federal Foreign Office has conducted international sports promotion for over 50 years. The programme encompasses a variety of projects to create and expand amateur sport infrastructure in many countries. It is an important part of Germany's foreign cultural and education policy.
Do you have any specific examples?
In preparation for the 2016 Paralympic Summer Games in Rio de Janeiro, we had a close exchange with Brazil. For example, our national team in goalball, a game for people with visual impairments, visited day-care centres in the favelas, Rio's poor districts, as part of an education project. We have also invited people with disabilities from North Korea, Argentina and Chile to Germany so that they could experience disabled sports in the snow in the Black Forest. German coaches are also sent to Africa and Asia to provide further education.
How does such cooperation come about?
We keep in regular contact with the Foreign Office and with the German Agency for International Cooperation (GIZ). Moreover, we are receiving requests from clubs in other countries. They often ask for financial support, which we can't actually provide because doing so would violate our statutes. Sometimes they also ask for resources, like sports wheelchairs or prostheses. We forward those requests to other institutions and aid organisations. In addition, some requests come from the International Paralympic Committee (IPC), the umbrella organisation of the national committees. The IPC is headquartered in Bonn. We are close partners, for instance in the WeThe15 campaign.
Can you please explain that?
WeThe15 refers to the fact that 15 % of the world's population is living with a disability. It is a global movement with the goal of making people with disabilities more visible, ending discrimination and championing inclusion and accessibility. In support of this goal, on 19 August 2021, over 100 landmarks in multiple countries and time zones were lit up in purple, the international colour for people with disabilities. We arranged for the Olympia Stadium in Berlin to be lit up. This movement is being carried out worldwide and is also contributing to cooperation between various countries.
The international highlight of disabled sports are the Paralympic Games, which are always held following the Olympic Games at the same location.
They are the absolute highlight, yes. The decision that the Olympic Games would only be allowed to take place with Paralympic Games was a quantum leap for disabled sports. The relevant agreement will be valid until 2032. But I assume that it will be renewed.
Early this year, the Paralympic Winter Games took place in Beijing. You were there with the German team. What was your experience of the Games?
In the words of one of our athletes: it was like two and a half weeks of prison with day release. Because of the Covid-19 pandemic and the associated restrictions, we were not allowed to have contact with the Chinese people. I can understand that, but our freedom of movement was nevertheless excessively restricted. Our hotel complex was locked down. The point of the Olympic and Paralympic Games is actually to get to know people from other countries, to gain insights into other cultures and experience the way sports can bring people together. This concept was put on the back burner. Prior to the Games, the Chinese government also threatened to set its legal system in motion if we made any negative statements about the country. I was already of the opinion that no athletic competitions should be awarded to countries that violate human rights – whether it's the Olympics and Paralympics in China or the World Cup in Qatar. This experience reinforced my position (on China's authoritarianism, see Hans Dembowski on www.dandc.eu).
The next major event will be the 2024 Paralympic Summer Games in Paris. Are you looking forward to them?
Of course, they will hopefully be a big party and an enormous opportunity to draw attention to disabled sports! I assume that, by then, the pandemic will be more under control so that a better exchange can take place.
If you could make one wish regarding the future of disabled sports, what would it be?
I hope that we can push the equality and non-discrimination of people with disabilities that are enshrined in the constitution, and not at a snail's pace, but rather in huge steps forward. We really should be able to live out the claim to participation that is formulated in the UN Convention on the Rights of Persons with Disabilities – everyday,
­everywhere.

Friedhelm Julius Beucher is president of the German Disabled Sports Association (DBS), which is also the National Paralympic Committee Germany.
beucher@dbs-npc.de