Global warming
The case against fossil fuels
Acting like a blanket, greenhouse gases keep earth warm for life to flourish, but the rapid increase in their emissions – especially of carbon dioxide – has made this blanket too thick for comfort. Public finances must be geared to solving the problem.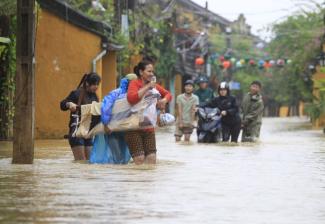 Hau Dinh/picture-alliance/AP Photo
Global temperatures are increasing, so 2015, 2016 and 2017 have been the hottest years on record. Glaciers are melting, the sea level is rising, and typhoons are becoming stronger. The Arctic is warming about twice as fast as other areas.
Scientists are in broad agreement about the unprecedented long-term risks posed by such events. The size and spread of their impacts is potentially vast, though unknown. The current pace of emissions of greenhouse gases is projected to lead – within this century – to temperatures not seen for millions of years. The UN University estimates that the resulting harsh living conditions, famine and starvation may force up to 1 billion people worldwide to migrate within their countries or across borders.
In the landmark 2015 Paris Agreement on climate change, close to 200 countries agreed to limit the rise in global mean temperature to no more than 2 degrees Celsius above pre-industrial levels. Exceeding this limit could lead to catastrophic and irreversible consequences that may transform the physical geography of the world. Public spending must set the right incentives. Subsidies must not compound the problems of climate change, but help to solve them. (sj)