Bus Rapid Transit
TransMilenio – a model for success
When Enrique Peñalosa became mayor of Bogotá, he launched a new fundamental development programme for the city. The mission was to create a "city for people, not for cars". It was the cornerstone of the TransMilenio's success.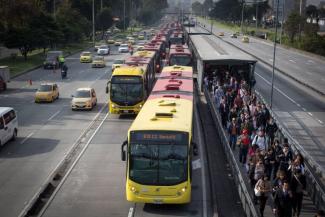 Pino Vargas/picture-allicance/Detomix
The low-cost, efficient and comparatively environment-friendly public transport system was meant to improve the traffic situation in the Colombian capital for the new millennium. It was designed to contribute to the evening out of social imbalances. It was obvious that the poor would benefit most from the development of public transport. In the 1990s, Bogotá was a city with a terrible reputation for violent crime and traffic chaos.
Operations on the first route started with 14 buses in the year 2000. Today, the network has grown to 115 kilometres and carries more than 2 million passengers a day. It is the world's biggest and fastest BRT system.
The TransMilenio is based on an inclusive approach. The suburbs of Bogotá are connected to the BRT system by feeder bus services. In addition, a network of cycle paths, green areas and pedestrian precincts has been created in the municipal area.
The TransMilenio is now used by so many people that it has reached the limits of its capacity. Peñalosa, who become mayor once more in 2016, now plans to invite bids for the city's first metro line – after 16 years of TransMilennio success. But Bogotá's BRT system has not failed – it will continue to play a major role in public transport.