KfW
Desks, tables, windows – and dry floors
What a difference a good learning environment can make: a primary school teacher in Maputo explains. This contribution was written for a KfW supplement in the print issue of D+C/E+Z.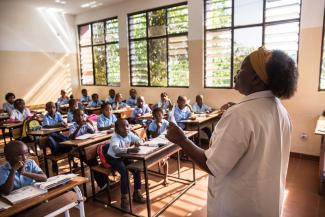 KfW Group/Ricardo Franco
The children used to sit on the floor. They had no desks, no chairs and in most classrooms there was also no electricity. This was uncomfortable, especially for the girls, some of whom still wear a capulana, a traditional dress. "This made it difficult for them to sit on the floor," recalls primary school teacher Felizarda Zaqueu.
She generally found it difficult to provide a creative environment under these conditions. "I couldn't create a pleasant learning environment," says the 55-year-old teacher, describing the situation several years ago. Especially since the school was also built on a kind of swamp. When it rained, everyone's feet got wet and dirty. Water and moisture were not only unpleasant; they also posed a serious health hazard.
Thankfully things have changed since then. Today the pupils sit in a dry place: in renovated classrooms, on sturdy desks, on solid stone floors. The walls are nicely painted, the windows let in enough light. And: Felizarda Zaqueu also has teaching materials, books and blackboards at her disposal. "Now the students can concentrate on learning," says the teacher.
She teaches at Escola Unidade 30 in the capital of Maputo, a primary school that has been renovated in recent years with support from Germany. The work was part of a larger programme to build or modernise 1,000 classrooms a year in Mozambique. After all, the country has set itself the goal of increasing the rate of school enrolment in line with the sustainable development goals (SDGs) and noticeably improving the quality of teaching.
The first successes have already been achieved: almost 85 per cent of all six-year-old children now attend school, compared with just over 80 per cent a few years ago. On behalf of the German Federal Government, KfW is financing construction measures in the education sector together with a number of other donors to remedy the serious shortage of adequately equipped classrooms. The shortfall was recently estimated at 38,000 classrooms throughout the country.
Escola Unidade 30 with Professora Felizarda Zaqueu is no longer included in this figure. She has been teaching there for 23 years and does not, under any circumstances, want to return to the old learning environment. "Everything is easier today," says the mother of three. "Now we have everything we need to encourage the children's development. I am very happy about this."
 
Link
KfW, 2019: Africa – continent of opportunity.
https://www.kfw-entwicklungsbank.de/PDF/Download-Center/PDF-Dokumente-Medienkooperation-mit-E-Z/2019_10_Afrika_E.pdf