SMEs
Innovative drivers of sustainable development
DEG – Deutsche Investitions- und Entwicklungsgesellschaft does not only support companies with long-term financing. For example, it also runs an up-scaling programme, designed to support young and innovative small and medium-sized enterprises (SMEs) in developing countries. The businesses concerned have grown too big to make use of typical micro-finance systems, but they are still too small to attract funding from commercial banks.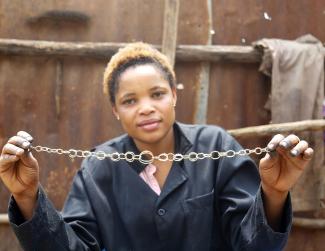 SOKO
The programme was started in December 2013 and has since supported almost 50 different companies in 16 nations. To qualify for the programme, applicants must not only be innovative. They must also contribute to sustainable development. DEG belongs to KfW Banking Group and has the mission to support sustainable development.
SOKO from Kenya is a good example for up-scaling impacts. SOKO runs an online platform that gives small-scale jewellery makers in rural areas access to the world market. The artisans receive orders by app, and then produce the goods according to the designs demanded. They use locally available materials such as recycled brass, the horn of Ankole cows, wood and bones. The items are then upgraded at the SOKO headquarters in Nairobi and distributed internationally. This "virtual factory" has dramatically increased the artisans' marketing opportunities. Some of them now earn five times more than they previously did.
To enhance its business model, SOKO is currently investing € 3 million, of which the DEG has contributed € 749,000 from the up-scaling programme with funds from Germany's Federal Ministry for Economic Cooperation and Development (BMZ). Among other things, SOKO is investing in an automated gold-plating system.
Many of the companies that have benefited from the Up-Scaling programme become well established and are so successful, that they are in a position to pay back the funding.
Another example is the German green-technology start-up Bio-Lutions (see interview). Thanks to the Up-Scaling programme it was able to set up an Indian pilot scheme for producing biodegradable packaging and disposable tableware from plant residues. Last year, DEG became a stakeholder in this Hamburg-based company in order to support its next phase of growth: Bio-Lutions is expanding production in additional countries. DEG