West Africa
Nigeria's inconclusive election results
The results of Nigeria's presidential elections will be challenged in court. That related disputes are being dealt with peacefully, is good news for the entire ECOWAS region.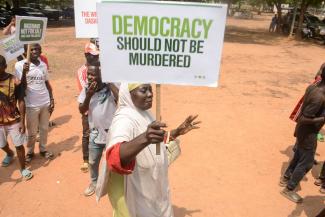 picture alliance / NurPhoto / Olukayode Jaiyeola
Nigeria's Independent National Electoral Commission (INEC) has declared Bola Ahmed Tinubu the winner of the presidential elections three days after the voting took place. Tinubu was the candidate of the ruling party All Progressives Congress (APC), and his two most important opponents have declared they will go to court to challenge his victory. The developments in Nigeria have strong implications for the Economic Community of West African States (ECOWAS), of which it is the most populous country and largest economy.
According to INEC, Tinubu got 37 % of the vote, while Atiku Abubakar of the People's Democratic Party (PDP) came in second with 29 % and Peter Obi of the Labour Party third with 25%. Turnout was surprisingly low at 29 % of some 90 million eligible voters. 
Nigeria's elections always matter to the rest of West Africa. Its huge population, large economy and abundant oil reserves make it the "giant of Africa". Whatever happens here has an impact on the neighbours.
It is a good sign that the conduct of the election was largely successful compared with previous ones. Nonetheless, there were irregularities, violence and avoidable technical glitches. For these reasons, the results are in dispute. The resolve of the losing candidates to seek redress at the court is good for entrenching democratic progress more deeply in the region.
Moreover, judicial review of the election results should strengthen Nigeria's democracy and stability. Both are crucial for the entire region. ECOWAS has a history of governments insisting on democracy in partner countries, but has recently seen a series of military coups in Mali, Guinea-Bissau and Burkina Faso. Indeed, Nigeria is a significant contributor to peacekeeping operations in West Africa. Its troops are currently present in Mali, Guinea-Bissau and Sierra Leone.
Recent history of unrest
Like several other West African countries, Nigeria has been struggling with political unrest and Islamist insurgents for many years. If things deteriorate in Nigeria, that would have repercussions throughout the region. Neighbouring countries might see more refugees, while militant outfits benefit from support from Nigerian allies. A serious stability crisis in Nigeria would destabilise the entire region. Ghana has played an active role in supporting Nigeria's fight against Boko Haram and other insurgent groups in the region. Any disruption in Nigeria's security situation could potentially affect Ghana's efforts to maintain regional stability and security.
Nigeria has long been a significant trading partner for other ECOWAS members, including Ghana for example. Any changes in Nigeria's economic policies could have far-reaching effects on Ghana. If Nigeria's economy grows stronger and becomes more stable, that would boost investment and trade opportunities for Ghana. Conversely, if Nigeria experiences political instability or economic difficulties, that would have negative impacts on Ghana's economy.
The same can be said for other West African countries. However, comparatively strong and diversified economies like Ghana's or Côte d'Ivoire's benefit more from international relations than those of low-income countries like Sierra Leone or Niger. Moreover, linguistic barriers mean that francophone countries generally tend to be somewhat less exposed to Nigerian influence, though that is not the case for Benin and Niger, which both share borders with Nigeria.
Regional integration  
Nigeria's next government will certainly have an impact on regional integration. Nigeria has long been a key player in the ECOWAS, and the block's future will depend on it in the future too. The good news is that regional integration was not controversial in the election, with all three major candidates supporting it in principle. Establishing a single currency for the ECOWAS will not be possible without Nigerian leadership. Nor will the Africa Continental Free Trade Agreement (AfCFTA), which the African Union plans to create, become a reality.
Prince Thompson is from Ghana and studying development management at Ruhr Universität Bochum. He is currently an intern at D+C/E+Z. His masters programme is affiliated to AGEP, the German Association of Postgraduate Programmes pertaining to international development.
prince.thompson94@yahoo.com