East Africa
Two African neighbours give peace a chance
Rwanda and Burundi – two small neighbouring countries in east-central Africa – have eyed each other with mistrust since 2015. That year, Burundian dissidents tried to remove the president – the late Pierre Nkurunziza – from office. The dissidents failed, and many fled the country. Nkurunziza then accused Rwanda, his neighbour to the north, of backing the failed coup and harbouring the dissidents.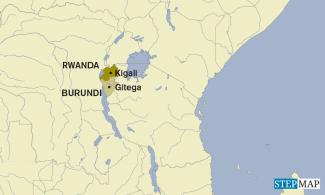 stepmap.de
Along with the dissidents, tens of thousands of other Burundians fled to neighbouring countries at that time to escape violence and unrest. Many went to Rwanda, but some are now returning home. Under a deal between Burundi and Rwanda brokered by the United Nations, over 7,000 Burundian refugees returned home from Rwanda by the end of 2020, and over 11,000 others registered for repatriation.
Both countries' presidents now say they want good relations. Burundi's Évariste Ndayishimiye points out that "we speak the same language". Rwanda's Paul Kagame says: "We want to live peacefully with Burundians." The current regimes in both countries, however, have a history of suppressing dissidents. Tensions within either country tend to be worse than between them, and the recent spats reflected domestic problems.
In May, a Rwandan delegation participated in a meeting of the United Nations Standing Advisory Committee on Security Questions in Central Africa, known as ­UNSAC, which was held in Bujumbura – further marking improved relations.
But progress has not been linear; occasional disagreements still arise, including disputes over the location of sections of the border. On the night of 23 May 2021, two people were killed in Rwanda – leading to an argument over who they were. Rwanda said they were Burundians in military uniform and were carrying medicines, guns and other military gear. Burundi's military spokesman Colonel Floribert Biyereke denied that any Burundians had trespassed on Rwandan soil, and noted that patrols guard the border to prevent such incidents.
However, the nearly six years of hostilities between the two countries have been an anomaly, considering their long, peaceful history together and their demographic similarities. The two countries' political relations can be traced back to the 15th century, when the Kingdom of Rwanda was founded.
Their languages are similar, as is their ethnic makeup. Both countries are direct territorial continuations of African states that existed before the colonial era. Geographically, both countries are approximately the same size. Today, many marriages take place between Burundians and Rwandans. Cross-border trade has thrived – albeit marred by occasional accusations of smuggling goods into Rwanda.
Beyond that, the two countries are linked in a web of bilateral and regional agreements. The governors of both countries' border provinces meet regularly. Both nations belong to the Economic Community of the Great Lakes Countries, the East African Community, the Common Market for Eastern and Southern Africa, and the Economic Community of Central African States. The two are also members of the African Union and the United Nations, which provide extensive channels for resolving disputes. Considering the more conciliatory stance taken by Burundi's president Ndayishimiye compared to his predecessor, future disputes will probably be resolved without causing renewed hostilities.
A deeper issue is the continued presence of armed groups in the wider region surrounding East Africa's Great Lakes – Burundi, Rwanda, the Democratic Republic of the Congo, Kenya, Malawi, Tanzania and Uganda. These troublesome militias are a destabilising force. Joint security arrangements – such as those under the International Conference on the Great Lakes Region – are key to calming the region and avoiding the kind of flare-up that marred Burundi–Rwanda relations for nearly six years.

Mireille Kanyange is a journalist for Radio Isanganiro in Burundi.
mika.kanyange@gmail.com
Normal 0 21 false false false DE X-NONE X-NONE /* Style Definitions */ table.MsoNormalTable {mso-style-name:"Normale Tabelle"; mso-tstyle-rowband-size:0; mso-tstyle-colband-size:0; mso-style-noshow:yes; mso-style-priority:99; mso-style-parent:""; mso-padding-alt:0cm 5.4pt 0cm 5.4pt; mso-para-margin:0cm; mso-pagination:widow-orphan; font-size:10.0pt; font-family:"Calibri",sans-serif; mso-bidi-font-family:"Times New Roman";}