Rule of law
The large number of femicides marks Mexico's reputation
Since the 1990s, the many murdered women in Mexico, for instance in the border town of Ciudad Juárez, have caused anguished debate. However, state agencies have only responded slowly.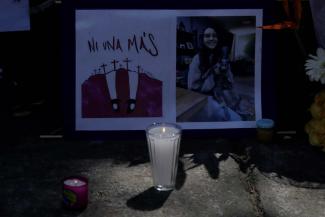 picture-alliance/NurPhoto/Gerardo Vieyra
There was an international uproar when dead bodies were found in 2001. It led the government to establish Inmujeres, the Instituto Nacional de las Mujeres (National Women's Institute). It reports to the president and its mission is to promote conditions in society that reduce discrimination and lead to more equal opportunities as well as gender justice.
The Inter-American Human Rights Court took note of the femicides in Ciudad Juárez. Its 2009 judgement in the Campo Algodonero case showed that Mexico's judicial system was inefficient and that state agencies largely denied any responsibility for gender-based violent crime. In response to the judgement, the government uttered excuses, designed action plans, paid some compensations and launched various reforms. Government officials, for example, have been getting specific awareness training if their duties include dealing with matters such as domestic violence, sexual abuse or femicide. So far, we lack research on whether that has changed officials' mindset however.
Funding on protective facilities for women has increased, and there are more offices committed to gender-specific issues at the municipal and state levels. Mexico now has 65 women's rights centres, and some public prosecutor's offices have specialised in gender-based crime.
Other countries are affected too
Migrant women across Mexico on their way to the USA are exposed to an especially high risk of violence. Femicide rates are high in some Central and South American countries too. In Honduras, El Salvador and Bolivia, there are actually higher than in Mexico. Poverty, organised crime and the illegal drug trade compound problems.
Under President Andrés Manuel López Obrador the number of homicides has been slowly declining in Mexico (from 29 per 100,000 people in 2019 to 28 in 2021 according to World Bank data). However, the number of murdered women has doubled in the past 10 years. In 2021, 0.8 cases per 100,000 were reported. This figure may seem comparatively small – but the victims are often killed in private spaces which they believe to be safe.
Virginia Mercado is a researcher at the Universidad Autónoma del Estado de México and an instructor in peace and development studies.
virmercado@yahoo.com.mx