Industrial policy
Pragmatism instead of ideology
In his article "Debate on Industrial Policy", Michael Grimm took stock of the debate on industrial policy based on a number of recent publications. We would like to take up where he left off and argue that the question at hand for developing countries is not whether industrial policy is essential, but rather what form it should take to be most effective.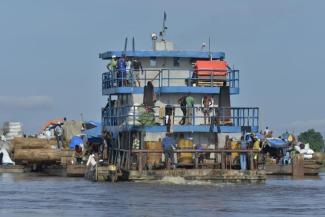 Fabian von Poser/Lineair
In essence, industrial policy is the strategic attempt to shape economic structural change so it moves in a socially desirable direction and backs greater, overriding goals. While political actors, especially governments, intervene in market dynamics to achieve policy goals, this does not mean they are replacing the market economy with a command economy.
Industrialised and developing countries alike are facing unparalleled challenges today. The economic development agenda has long strived to reduce poverty and inequality and to address rapid urbanisation. Moreover, there is a pressing need to decarbonise economies, which particularly concerns the energy, production and transport sectors (DDPP, 2015). Another growing challenge is to respond appropriately to disruptive technological change, such as the trend towards digitisation (OECD, 2017). The ramifications of all these challenges affect structural change in every country in the world. They have impacts on national economies as well as on global and regional value chains that continued growth in export-oriented developing countries depends on.
Fundamental issues must be addressed. They include designing urbanisation suitably, identifying technologies to fight climate change and understanding digitised production processes' implications for the future of work. Countries in the early stages of industrialisation also face  the challenge of choosing a path that is both sustainable and avoids poor investment choices, such as building carbon-based energy and transport systems.

Influencing market processes
Industrial policy can offer effective answers. To start with, interventions that guide market processes clearly make sense. Active pursuit of policy goals implies being "doomed to choose" (Rodrik/Hausmann, 2006). It will not do, however, to enact temporary, individual measures to correct market failures every now and again. Economic textbooks tend to pretend that this is sufficient, based on the assumption that market forces naturally ensure the best possible allocation of resources. However, prices can never fully represent complex social goals. Technological innovations and institutional changes require political guidance, especially when it comes to systemic changes (such as the transition to renewable energy).
Responsible industrial policy must promote an environmentally friendly and socially resilient market economy. For example, policymakers must assess the social compatibility and future viability of the results delivered even by well-functioning markets. Where appropriate, they should create supportive incentives and set targets concerning employment, climate or income distribution. Ultimately, industrial policy needs normative legitimacy.
Market enthusiasts like to allege that industrial policy necessarily implies that governments pick winners they encourage and subsidise, thus inviting lobby activism and "political capture". This view is clearly an ideological exaggeration.
Rational industrial policy defines technology corridors with a promising future (for example those with low carbon emissions and high resource efficiency) and provides incentives that leave tangible investment decisions to companies competing in the market.
There are also many different ways to let market competition shape policy measures. They include bidding procedures, for example related to feed-in tariffs for renewable energies, or linking technology funding to cluster concepts that drive cooperation among companies, research institutions and civil-society stakeholders.

Challenges of implementation
Implementing industrial policy measures successfully is demanding and complex. Low-income countries in particular are likely to face considerable challenges. Unfortunately, those countries that have the least efficient markets and which most urgently need structural change to boost development, are generally the ones that lack effective institutions that could promote critical reforms (Altenburg/Lütkenhorst, 2015).
Our book "Industrial policy in developing countries. Failing markets, weak states" explores the implications for development policy and cooperation. We argue that it is crucial for poor countries to pursue multiple goals such as growth, increasing productivity, fighting poverty, creating jobs, ensuring environmental sustainability et cetera. Moreover, these countries are under intense pressure to act fast in view of rising expectations of their growing populations.
Adopting a wait-and-see approach is unrealistic. Governments cannot sit back and hope that market dynamics in and by themselves will foster the kind of development that increases the capability of the necessary institutions. "Second best" approaches are needed and they must, to the extent possible, rely on self-correction and adjustment mechanisms. Important steps include:
involving all stakeholders in defining national transformation projects,
taking the economic capabilities of companies and skills of workers into account when deciding on the speed and sequencing of implementation,
regularly monitoring and evaluating performance and
promoting a culture of learning.
The idea is to create a climate of transparency that can help prevent corruption and political capture.

Analysis needed
Powerful analytical tools are essential for making evidence-based industrial policy. It is necessary to design proper models of current economic structures and to identify comparative competitive advantages. The better policymakers can predict future developments accurately, the easier it becomes to set medium and long-term priorities. It is often difficult to identify the technology fields and economic sectors that offer realistic growth opportunities. Such assessments require a smart mix of quantitative and qualitative instruments (Altenburg/Kleinz/Lütkenhorst, 2016), especially given the dramatic technological revolution we are currently experiencing.
In essence, developing countries should neither accept premature deindustrialisation (a trend empirically demonstrated by Rodrik, 2015), nor can they afford misguided industrialisation. Scarce resources must be invested wisely to promote productive and sustainable development. There is always the risk of choosing poorly, but this in no way means we should not pursue rational industrial policy. It is far more dangerous to passively observe the global economy changing fast without adopting strategies to respond.

Tilman Altenburg is head of the "Sustainable Economic and Social Development" department at the German Development Institute, GDI.
tilman.altenburg@die-gdi.de
Wilfried Lütkenhorst is a GDI associate fellow and previously was a managing director at the United Nations Industrial Development Organisation (UNIDO).
wluetkenhorst@aon.at

References
Altenburg, T., Lütkenhorst, W., 2015: Industrial policy in developing countries. Failing markets, weak states. Cheltenham/Northampton: Edward Elgar Publishing (recently released in paperback).
Altenburg, T., Kleinz, M., Lütkenhorst, W., 2016: Directing structural change: From tools to policy. Bonn: DIE.
https://www.die-gdi.de/uploads/media/DP_24.2016.pdf
Deep Decarbonization Pathways Project (DDPP), 2015: Pathways to deep decarbonization 2015 report – executive summary. Paris: SDSN-IDDRI.
http://deepdecarbonization.org/wp-content/uploads/2015/06/DDPP_EXESUM.pdf
OECD, 2017: The next production revolution. Implications for government and business. Paris.
Rodrik, D., 2015: Premature deindustrialization. Princeton: Institute for Advanced Study.
https://www.sss.ias.edu/files/papers/econpaper107.pdf
Rodrik, D., Hausmann R., 2006 : Doomed to choose: Industrial policy as predicament. Cambridge.
https://drodrik.scholar.harvard.edu/files/dani-rodrik/files/doomed-to-choose.pdf