Trade
EU-Africa relations
Since 2002, the EU has been negotiating Economic Partnership Agreements (EPAs) with the African, Caribbean and Pacific Group of States (ACP countries). Based on the Cotonou Agreement signed in 2000, the EPAs are supposed to increase EU-ACP trade. However, especially the EPAs between the EU and African states have been highly contested ever since.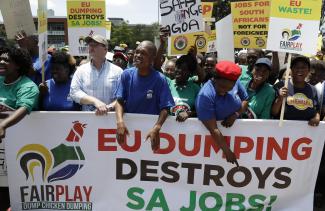 picture-alliance/AP Photo/Themba Hadebe
Relations between the EU and the ACP countries are at a turning point, according to German economist Helmut Asche. In 2020, the Cotonou Agreement between the EU and the ACP countries will expire. Currently, it unites more than 100 countries and represents over 1.5 billion people. It is the basis for ACP-EU development cooperation. The goal is to contribute to sustainable development and eradication of poverty.
Negotiations for a next-generation treaty kicked off in September 2018. The EU has set six priorities. They include economic development, environmental sustainability and peace. However, according to Asche, who is an economist with 35 years of experience in development cooperation with Africa and has taught at the universities of Leipzig and Mainz, the EU Commission has so far officially focused on youth and employment – a code for migration issues, the EU's true political interest. At an event held at Goethe-University in Frankfurt, Asche said that the EU considers that the EPAs have sufficiently settled trade issues. The problem, however, is that most of the EPAs are only provisional. The EU has failed to get the agreements with the Economic Community of West African States (ECOWAS) and the East African Community (EAC) signed, and many African countries show no intention at all to enter such a trade agreement.
According to Asche, economic integration at the regional level is deeply intertwined with global trade. Small nations with small markets benefit from creating larger markets supported by pooled economic policymaking with their neighbours.
In technical terms, both regional economic communities (RECs) like the EU or the EAC and deals like the EPAs are regional trade agreements. The first facilitate trade between neighbouring countries within a region (intra-regional) while the latter facilitate trade between regional blocs (inter-regional). Policymakers must take into account that regional integration can boost inter-regional trade and vice versa. Unfortunately, inter-regional trade deals like the EPAs can also undermine regional groups, and this is exactly what is happening now.
Economists typically use a linear model of regional integration. There are at least five stages of integration:
First, a preferential trade area reduces tariffs on specific products for member countries.
Second, a free trade area completely eliminates tariffs between member countries.
Third, a customs union establishes a unified external tariff towards non-members.
Fourth, a common market allows for the free movement of capital, labour and services, though significant non-tariff barriers remain.
Fifth, members share a common currency in a monetary union.
According to Asche, the assessment of individual EPAs depends on the state of integration of the African RECs. The EU is considered to be at stage five because of the euro and deep economic integration. African RECs, however, are at different stages. None has completed stage three, he points out, but some have elements of deeper integration. Indeed, due to a lack of data, it is difficult to determine at which stage they really are. Asche argues that more research is needed. Adding to the confusion, there are overlaps between various African RECs, because some countries belong to several RECs.
Intra-African integration is shallow. The integration of economic activities other than the trade in goods is only progressing slowly. Moreover, only 10 to 15 % of total African trade is done within Africa. Boniface Mabanza of the Ecumenical Service on Southern Africa (KASA), a German civil-society organisation, argues that there is a huge potential to be tapped through regional integration. Deeper integration could generate jobs and establish value chains within the region. On the other hand, he warns that the EPA approach has reduced regional integration to a stepping stone towards access to European markets and thus to global integration. Instead, regional integration should be seen as an end in itself.
Among many other regulations, the Most Favoured Nation Clause included in the EPAs is problematic, according to Mabanza. It requires African RECs to extend the same trade advantages to the EU that it gives other countries with a share of one percent or more in world trade. This prevents African countries from establishing strategic partnerships with emerging markets like Brazil or China, according to Mabanza.
Moreover, Brexit is another factor to consider. Many African governments are worried because about 30 % of their exports go to the UK. With Britain leaving the EU, the conditions and room for negotiation have changed, says Mabanza. On the upside, it means that the intra-regional dimensions of trade policy look more important again.

The EPAs in 2019
In regard to regional integration, Asche considers the current status of the EPAs in Africa to be thoroughly disappointing:
The East African Community (EAC) and the Economic Community of West African States (ECOWAS) have not signed agreements with the EU due to some members' concerns on how it will impact their industrialisation efforts.
Partial agreements have been signed with Southern African Development Community (SADC) countries. The "SADC-EPA" is an agreement between the EU and the Southern African Customs Union (SACU) plus Mozambique. The "ESA-EPA" is an agreement between the EU and four other SADC countries (Mauritius, the Seychelles, Zimbabwe and Madagascar).
Additionally, the EU has signed Interim EPAs with particular countries which replace failed agreements with whole RECs.
Ideally, North-South trade agreements like the EPAs should support South-South agreements. The first should arguably not go deeper or progress faster than the latter. Considering that the EPAs establish a free trade area of goods between the EU and African RECs, but do not regulate services and foreign investment, they do not go deeper. They are less extensive than the EU had intended, according to Asche. However, by signing agreements with individual or certain groups of states instead of RECs as they are, the EU is compounding fragmentation instead of promoting integration – the opposite of the stated policy objective.
One of the problematic clauses, according to Asche, is the Infant Industry Protection clause. It is supposed to allow countries to temporarily protect nascent industries from European competition. Yet, in Asche's assessment, the EPA wording of the clause makes practical application and strategic industrial policy so difficult that it may indeed hamper industrialisation. This would be a good reason to accede to Nigeria's or Tanzania's requests and rephrase essential clauses in the treaties.
According to Asche there are four scenarios for the future of EU-Africa trade relations:
Scenario 1: The EU will move forward with the EPAs, persuade more countries to sign and try to prove the benefits.
Scenario 2: The EU could give up on the EPAs and go back to the Everything-But-Arms (EBA) scheme, which allows least developed countries to import all goods with the exception of armaments to the EU duty-free.
Scenario 3: The EU and the African Union (AU) could negotiate a next-generation EPA, considering that the latter is pursuing a Continental Free Trade Area (CFTA). It has been signed by 44 of the 55 AU member states and will come into force once 22 countries have ratified it. By February 2019, 19 countries had done so.
Scenario 4: The EU could substantially improve the EPAs and then conclude them with the existing African RECs.
The EU Commission is currently moving ahead with scenario 1, as if nothing had happened, says Asche. However, in his opinion, substantial improvements and strategic dialogue are necessary to achieve fair enough agreements for all involved. Asche will deliver an in-depth analysis of these issues in his forthcoming monograph "Regional Integration, Trade and Industrialization in Africa" to be published in 2019.

Monika Hellstern is an assistant editor at D+C/E+Z, focusing on social media.
euz.editor@fazit-communication.de