Development project
Project develops rural community with shea butter
In Uganda, a country where many rural poor are unable to find work, a social enterprise is championing an ambitious vision to create a sustainable rural city. The development project "Okere City", based in Otuke district of northern Uganda, is working with locals who are predominantly in informal employment. The goal is to generate sustainable sources of income.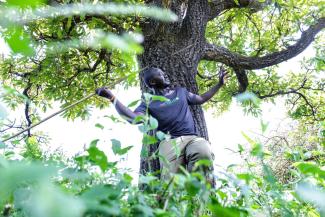 Katumba Badru Sultan
Okere Parish has a population of about 5000 people. Over 65 % being women. Most men migrate to urban areas in search of better economic opportunities. Some 98 % of the rural community in Okere are small-scale subsistence farmers. They rely on rain-fed agriculture as their major economic activity. The parish has been ravaged by a 20-year long rebel war, which the region of northern Uganda suffered.
Most Okere dwellers traditionally grow shea trees, some of which have been passed on from generation to generation. These trees are scientifically known as "Vitellaria paradoxa" and are indigenous to Africa. The International Union for Conservation of Nature lists the shea tree among the species that are at risk of becoming extinct soon. However, shea butter has an estimated global market of over $ 1 billion. There is thus scope for prosperous business.
A shea tree needs between eight and 15 years until it first can be harvested. A tree can yield 15 to 20 kilogramme (kg) of fresh fruit that will produce three to four kg of dry kernels. The kernels consist of almost 50 % fat, of which shea butter is made. In the west it is most commonly used in cosmetics, in Africa it is also eaten.
Socio-economic transformation
Understanding the importance and attachment of Okere's people to the shea tree, Ojok Okello, the founder and vision bearer for Okere City has crafted the idea's vision around the product. "When the season for shea fruits harvesting comes, households are involved in the collection of shea nuts and production of shea butter as a secondary economic activity," Okello says.
He thinks that the shea tree is the "engine that will spark socio-economic transformation". He has therefore built a business around value addition and processing of the shea nut. Apart from shea butter, other goods can be made too. Starting in 2019, Okello has invested some of his own money in the project. Now significant progress has been made. Okere clearly generates revenue.
To organise local people better, Okere City has set up a cooperative society for shea-tree growers. Currently, the cooperative society has 100 members – most of them women – who gather savings and take credit from the common pool. This gives the farmers access to the finance they need to advance their business, for example by purchasing fertilisers or improving storage facilities.
Education, health and culture
On top of prioritising agriculture, the Okere City model has also focused on other activities. Before the project started, up to 72 % of the adult population in Okere had not had primary education. Thanks to an ongoing adult education programme, things are improving. The project is also paying attention to all children attending primary school. "Okere City is giving our children the best quality education here in the village without us taking our children to the city. This gives me confidence that the future of our children shall be brighter," Eunice Apio, a chief of a local tribe says.
Furthermore, a health facility has been set up to extend medical services to the local community. It operates on a flexible basis where locals can clear their medical bills during the harvest season. Okello reports it has an average 25 patients visiting per day.
There is also a boxing club that targets youth. The boxing club offers them an opportunity to channel their energy in sports.
Okere community prides itself in its rich cultural heritage. The Okere City project has established commercial traditional dancing activities for visitors and tourists. In this way, local musicians and artists can gain an income from the increasing number of visitors going into the area.
"Since 2019, our ecosystem of 20 social businesses and community projects now serve 5000 clients through targeted provision of services or products across the education, health, agriculture, tourism, and finance sectors," Okello says.
Satisfied customer
Customers like Shamim Nirere, an ardent buyer of the cosmetic product, are excited about the quality of the shea butter from Okere. "It is by far the best moisturiser I have ever used. Additionally, the story behind the women who collect the nuts is inspiring. To think that when I buy a tin of Okere shea butter, at least some money finds its way to these women and the community is amazing," she says.
Okere City's grand vision is to create a poverty free village where everyone lives in dignity. Founder Okello aspires to achieve simultaneously all the 17 UN Sustainable Development Goals (SDGs) by 2030, and Okere shall emerge as a sustainable village.

Link
Okere City:
www.okerecity.org/

Ronald Ssegujja Ssekandi is a Ugandan author and edits D+C/E+Z's Nowadays column.
sekandiron@gmail.com