Fleeing from war
Lost boys and girls
More than 20,000 children fled Sudan's civil wars in the 1980s, migrating first to Ethiopia and then to Kenya. Many of them died along the way.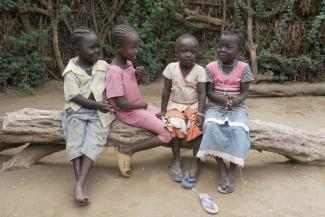 Sean Sprague/Lineair
The Sudanese civil war of the 1980s killed an estimated 2 million people and orphaned some 30,000 children. Some of the orphans who fled the country became known as the "Lost boys of Sudan" – so named by humanitarian workers who cared for them at their destinations. The "Lost boys" – later also known as the "Lost boys and girls" – initially numbered more than 20,000 youngsters belonging to the Nuer and Dinka ethnic groups.
Some of the child refugees were as young as five years old; younger children simply followed older ones out of devastated villages. The children left after their homes were burnt down and their parents killed.
The refugee minors first sought asylum in Ethiopia. But in 1991 Ethiopia's leader was overthrown; the resulting instability forced them to migrate to Kenya, where their destination was the Kakuma refugee camp.
This was a dangerous journey; many children died along the way. Between 1991 and 1992, the number of the "Lost boys and girls" was reduced to 12,000. Particularly treacherous was crossing the fast-flowing and crocodile-infested Gilo River between Sudan and Ethiopia.
A refugee camp is intended as a temporary solution for displaced people while permanent accommodation is found. But permanent accommodation for refugees is hard to find. Many young refugees remained in Kakuma, marrying and raising families there. The luckier ones among the "Lost boys and girls" received humanitarian aid to resettle abroad with families.
"I was 12 years old when our village was attacked and my parents died," says Simon Deng, one of the "Lost boys" who still lives in Kakuma. "I saw other children die in the Gilo River. I've lived in Kakuma for 29 years now. Considering our dependence on aid, we do not have much chance of moving on from here." 

Qaabata Boru is an Ethiopian journalist and former resident of the Kakuma refugee camp in Kenya. He is the founder and editor-in-chief of Kakuma News Reflector (Kanere), a refugee-led online newspaper.
kakuma.news@gmail.com
https://kanere.org/