Religion
Men of God fighting each other
In many developing countries, the numbers of evangelical churches keep rising. These churches typically have charismatic leaders. In Uganda, they tend to become rivals in a flourishing business called religion.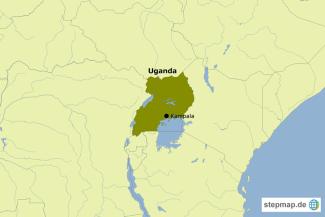 stepmap.de
All over Africa, churches of so-called "born-again" Christians are mushrooming. They neither belong to the Roman Catholic Church nor to the Protestant mainstream of Lutherans, Anglicans, Presbyterians et cetera. In Uganda, evangelical churches have florid names like "Evangelical Truth Ministry" (ETM) or "Miracle Centre".
The pastors usually insist on literal interpretations of the bible, and their personal authority is not restrained by any major organisation. Some faith leaders are clearly business-oriented and focus on collecting donations. Around the world, charismatic evangelical pastors are known to have become quite rich.
In Uganda, evangelical churches are spreading fast. One example is the Kampala neighbourhood of Najjanakumbi, which is close to the central business district. It has a Catholic and an Anglican church – plus 23 evangelical churches.
Believers give money or material goods to churches, says Veronica Mukasa, who is a member of a Najjanakumbi church. Many pastors openly demand money from worshippers. "The notion is, more followers – more money," Mukasa explains.
Sometimes conflicts between evangelical leaders originate from financial matters. Pastor Julius Okwii of the "Glory of Life Ministry" describes some other evangelical leaders as "greedy and exploitative", accusing them of "luring people into their congregation and ripping money off believers" rather than preaching the gospel.
A local evangelical radio station recently broadcast a renowned city pastor turning vulgar. He insulted other pastors. A woman backed him up, claiming that another popular preacher was faking faith healings. Her story sounded somewhat rehearsed however. In any case, listeners who were expecting inspirational Christian messages found themselves listing to verbal attacks.
Brother Ronnie Makabai is another prominent pastors. He runs a broadcast station, reaching out to millions of worshippers. Some say that he is a charlatan, but in spite of such publicity, many believers flock to his church in hope of healing and deliverance. Every Thursday, thousands of sick people from all over East Africa gather at Brother Ronnie's "Peace Centre" for healing. Many claim to have been cured after a simple touch by Brother Ronnie.
William Baluku, a worshipper at the "Miracle Centre", knows that there are disputes between faith leaders. But he points out that prayers bring peace and harmony to families and communities. "Many people see churches as shelters for healing, deliverance and financial breakthrough." In his eyes, it is "safer to turn to God than to witchcraft.

Gloria Laker Aciro is a writer and former war and peace reporter, now heading the Peace Journalism Foundation of East Africa. She lives in Uganda.
glorialaker@gmail.com
Twitter: @GloriaLaker