Identity
Language politics in India
The Indian states are largely divided along language borders, which reveals how important language is to political identity.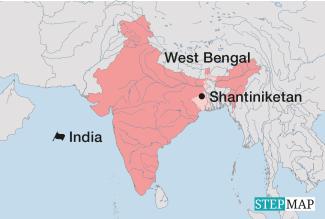 stepmap.de
Correspondingly, Bengali is the language of the state of West Bengal and of the neighbouring country of Bangladesh. Rabindranath Tagore, winner of the Nobel Prize in Literature in 1913, wrote in this language. With the founding of his university, Visva-Bharati University in Shantiniketan, over 100 years ago, he very consciously maintained the region's cultural heritage under British colonial rule. He also expanded it with songs that are still popular today.
Nowadays, however, there is an ongoing political battle in India about in which school year and in which order children should learn Hindi and English after their regional language. The central government has been trying for decades to make Hindi the national language, an effort that has intensified since Prime Minister Narendra Modi, of the Hindu-chauvinist BJP party, took office.
English-medium schools
In large cities there is nevertheless a strong trend towards private English-medium schools. The urban middle class is success-oriented from an economic standpoint. These parents want their children to learn English. If they do not have a good command of spoken and written English, they will not attain leadership positions in business, government or law. The great importance of the language of the former colonial power leads to a certain alienation (see main text).
For many, however, Hindi is not an attractive alternative, because it is only spoken natively in North India. Since English is equally foreign to everyone, people from other regions appreciate it as comparatively neutral territory. In principle, it would not be harder for them to learn than it would be for their compatriots from the North. This is especially true in South India, where Dravidian languages prevail, which are not at all related to Indo-European languages like Hindi, Bengali or Gujarati. 

Martin Kämpchen is an author and literary translator living in Shantiniketan in West Bengal.
martin.kaempchen2013@gmail.com