Ethnic minority
Safe so far
Though India is hit hard by the Covid-19 pandemic, our small cluster of two Adivasi villages in West Bengal has not suffered infections yet. We do feel the economic impacts of course.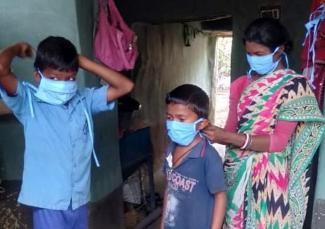 Boro Baski
The Santals are an Adivasi community with about 7.4 million people in Eastern India, Bangladesh and Nepal. There are several villages in our district in West Bengal. We are using masks, social distancing and washing our hands regularly – which is a challenge, as our village homes do not have running water.
The Hindu caste system has historically kept our community at a distance. Especially, but not only high-caste Hindus avoided coming near us. We were restricted from going to their homes and courtyards. These conventions have been weakening in recent decades, but they still exist. There are tube wells we are not supposed to use. Disrespectful body language or mild casteist slurs are still common. In the current health crisis, however, such discrimination has helped to keep our villages safe.
Santals traditionally lead communitarian lives and emphasise togetherness. Apart from cooking, meals and sleeping, Santals spend most of their time during the day on the Kulhi, the common dust road of the village. Field work is done collectively, and the women perform their daily activities, which include collecting firewood in the forest or small snails for water bodies, in groups. Keeping a distance feels uncomfortable, but people are getting used to doing so.
Wearing masks is uncomfortable too. In general, women, who assume responsibility for their families, observe the mask rules more obediently than men. As people fear infections, however, most accept masks. For some time, the police were strictly enforcing mask wearing in our district, but as they have relaxed their attention, some Santals have been becoming more negligent.
For a while, the State government handed out free food rations. That was a great relief for those below the poverty line. Some of our people had migrated to cities to work as daily labourers, but lost their jobs and incomes during the lockdown. Many returned home and desperately needed support. Our village communities made them stay in quarantine to ensure they did not spread the virus.
Farm work has continued quietly. To many Santals, one lesson of the pandemic has been that agriculture provides the safest livelihoods. It goes on even when other sectors close down.
Hunting is a traditional practice, moreover. According to media reports, wildlife hunting doubled during the lockdown. People from our villagers have been involved too. The prey includes birds, mice, wild pigs and other animals. As schools were closed, children often came along.
In our villages, our community-based organisation runs a non-formal primary school and coaching classes for high-school students. During the lockdown, the teachers supported our awareness programmes. Especially needy families were given not only food, but also masks made by village women. In October, teaching has gradually resumed, in line with government rules. Beyond the standard curriculum required by the state, we involve them in activities like bee keeping, vermicompost and duck breeding. Because of the lockdown, the students had not taken care of these things since March.

Boro Baski works for the community-based organisation Ghosaldanga Adibasi Seva Sangha in West Bengal. The NGO is supported by the German NGO Freundeskreis Ghosaldanga und Bishnubati. He was the first person from his village to go to college as well as the first to earn a PhD (in social work).
borobaski@gmail.com