Tuberculosis
Saving lives through discipline
Tuberculosis is a growing problem for the Central Asian health systems. This is due to resistance against medicines and increasing HIV/AIDS rates.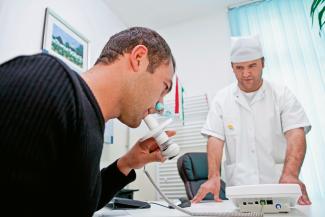 KfW Photo archive/Photographer: Rendel Freude
Tuberculosis can be cured and yet it is the world's most fatal infectious disease. Central Asia is a particularly badly affected region. While the number of new infections is falling there, treatment is proving increasingly difficult. Many strains of bacteria have now become resistant to antibiotics. Furthermore, Central Asia has a dual epidemic on its hands, as more and more people are now infected with both HIV and tuberculosis.

Even ordinary tuberculosis has to be treated consistently with antibiotics for at least six months. In the 1990s, living conditions in the successor states of the Soviet Union deteriorated very considerably. Many tuberculosis patients were only treated for a short time or not at all. This gave rise to multi-resistant forms of tuberculosis that are not affected by normal antibiotics. This significantly reduces the chances of being cured. In practice, the Directly Observed Treatment Strategy (DOTS) disseminated by the WHO has proven its worth. At the health centres, patients are given antibiotics free of charge and take them in the presence of the health personnel. Only if the treatment is uninterrupted the pathogen can be prevented from developing resistance to the prescribed antibiotic. Discipline therefore plays a key role in successful treatment. KfW Development Bank helps ensure the health centres' supply of antibiotics.

A properly functioning health system is indispensable for effective treatment and the prevention of further infections. On behalf of the Federal Ministry for Economic Cooperation and Development (BMZ),  KfW Development Bank thus supports the governments of Kyrgyzstan, Uzbekistan, Tajikistan and Kazakhstan with various measures, explains KfW health expert Peter Reff. These include the development of a network of basic laboratories for diagnosing tuberculosis.

Those suffering from the multi-resistant form of tuberculosis require different doses and antibiotics, necessitating precise diagnosis in specially equipped reference laboratories. Through partnerships with supranational reference laboratories, KfW Development Bank has been supporting the development of a special laboratory of this kind in each of the four countries. These will then also monitor the work carried out by the standard laboratories and take over complex cases. The objective is to ensure that the right treatment is given by testing every tuberculosis patient for multi-resistance. Particular treatment is also needed by those infected with both HIV/AIDS and tuberculosis. Immunodeficiency renders these patients especially vulnerable to tuberculosis, while their prospects of being cured are poorer. Furthermore, the antibiotics have to be compatible with the anti-AIDS drugs. Patients are often treated incorrectly because they themselves or their doctors are ignorant of the HIV infection.
Tuberculosis has to be treated with antibiotics for at least 6 months
This is happening with increasing frequency as HIV infection rates rise in Central Asia. The dual-epidemic problem is especially prevalent in prisons. The living conditions there create a breeding ground for both diseases. Moreover, the medical treatment often ends when the inmates are released.

The point has been reached where prisons too have effective antibiotics at their disposal and civil laboratories test inmates for tuberculosis. When a tuberculosis patient is released from prison, he is, for example in Uzbekistan, first sent to a special unit within the hospital until he has fully recovered.

Combating tuberculosis across the board requires close cooperation of all participants: ministries, hospitals, health units and laboratories. Another key component is that the national governments in the region now exchange the relevant information between them. Because the disease does not recognise national borders. Therefore KfW Development Bank also promotes transnational cooperation and acts as an intermediary.
Vera Dicke